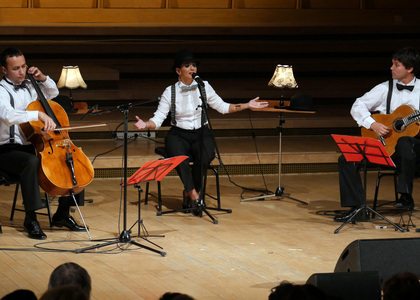 'Do you Like Tango?' - the Start of the Second Edition
Wednesday, 20 May 2015 , ora 9.03

The second edition of the national
Do you Like Tango?Tour
will make its début with a concert performed by cellist Răzvan Suma and his guests, singer Analia Selis and guitarist Julio Santillan at the
Dumbrăveni Library
on Saturday, 23
rd
May, 2015. The programme includes tangos, milongas and waltzes, composed by Ástor Pantaleón Piazzolla, Carlos Gardel, and
Sebastián Piana
and even works written by Julio Santillan. Răzvan Suma talked to us about the second edition of the tour:

You are addressing the same question to the public as you did the previous autumn - 'Do you like Tango?' Where will this edition of the tour make its début?
We are making our début with the Do you Like Tango? Tour - the second edition - in Dumbrăveni. It is a very special place. First of all, because we have been going there for the past 6 - 7 years - we have a very close collaboration with the people who live there. It is a very active group of organizers, who is very active in the culture sector. Second of all, I am very happy because this event will inaugurate the public library in Dumbrăveni; this isn't a new library, but a reopened one; it is being re-inaugurated after a long-lasting renovation (about fifteen years), so the people of Dumbrăveni will have access to more books after our Do you Like Tango? concert. On the other hand, I must confess that our main objective is to get to as many smaller towns as possible, according to their request to our organizers, who would very much like for us to go to towns, such as Dumbrăveni, Focșani, and Galați, after having ticked the bigger ones off our list. We are very proud that we were invited to perform in these locations, as well.

The tour will end in Bucharest once again ...
Yes. The traditional concert held at the Romanian Radio Hall is not a rehearsal, and we have surprises and guests prepared for our spectators. I will not divulge anything, not even the smallest secret, because it will no longer be a surprise, but, yes, we will once again perform on the stage of the Romanian Radio Hall, on 10th June, and I have seen that the tickets have already sold, there have been only a few left, which is a very important sign for us. It means that we are wanted there.

The previous tour embodied a history of the Tango - from works by Carlos Gardel to Julio Santillan, who is also one of the members of this band. What will contain your repertoire this time?
Mostly, we will perform the same tangos. We renewed our repertoire with three Romanian works or, better said, with three tangos which made themselves very well-known in Romania, no matter their origin. For example, Zara was written by an Uruguayan, which we didn't know at the time and, when looking for this work, we realized that it wasn't, in fact, a Romanian work which I don't think Romanians know. It is better if we get information. There will be very beautiful works and a renewal of this autumn's performance, even from a theatrical perspective.
We kindly invite you to dance tango together with us or to listen to tango music together with us from 23rd May to 12th June.
Lucian Haralambie
Translated by Izabela-Elvira Vațe and Elena - Daniela Radu
MTTLC, The University of Bucharest