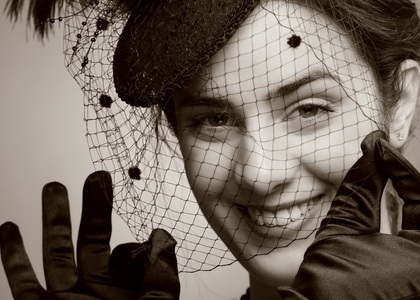 Irina Sârbu at the Romanian Radio Hall in the Last Concert of the Season within the 'Jazz in Romanian' Series
Thursday, 11 June 2015 , ora 11.43

With a large, winning smile, always natural, with a lusciously voluptuous voice, Irina Sârbujuggles (in the most beautiful sense of the word) with the souls of those listening to her, or, in order to keep up with the musical journalism slang, she pendulates among the most eclectic styles. Irina Sârbu has the gift of awakening memories and emotions to those nostalgic about the inter-war times, she charms bossa-nova lovers and offers a jazz infused folklore to young audiences. Of course, in all this pretty heterogeneous picture, jazz has priority. After all, it is only natural to think that she owes the secrets of her profession to Anca Parghel and has collaborated with quite an impressive number of musicians (an important aspect for a jazz artist) - Marius Popp, Mircea Tiberian, Puiu Pascu, Virgil Popescu, Alin Constantin, Marius Vernescu, Sorin Romanescu, Alex Man, Ciprian and Tudor Parghel, to name only a few.

Irina Sârbu, onstage again at the Romanian Radio Hall, along with the Big Band Orchestra led by Ionel Tudor. What are you offering the public on Thursday evening, 11th June, 2015?
I will perform along with the Big Band, classical pieces of jazz, nameley, "In a mellow tone" or "Don't get around" by Duke Ellington and "Night in Tunisia" by Dizzie Gillespie, a blues piece. We have an eclectic and really beautiful repertoire.

…which, I get, is centred upon classical jazz.
Yes. Absolutely, the classical jazz sphere, because this is what we enjoy and love the most; and which I think suits best in a classical music concert hall.

Would this be a continuation of a collaboration started back in 2004?
Yes, it would. We performed together in 2004 but also in 2014, in an open-air festival in Bucharest. I was together with Ionel Tudor and the Radio Big Band. Collaborating with them is a real pleasure each time it happens.

We are now talking about both the actress and singer Irina Sârbu. What side are the scales leaning onto? Or is there a balance between the two?
Of course there is, but the scales bents in favour of music because we have been friends since I was five; however, this doesn't mean I have given up on acting. I have a project for children at the Odeon Theatre. Of course, if offers come my way, I like to be challenged, and try to discover myself, to evolve. To conclude, no, I am not giving up on any of the two.

And if we are to come back strictly to music, where would the Irina Sârbu's preferences are, between the interwar Bucharest, bossa-nova or the classical jazz repertoire?
I have times. I am exploring them all in turn, but my big love is jazz after discovering it twelve years ago and realizing just how much I enjoyed singing and improvise jazz. I discovered interwar Bucharest, then samba, bossa-nova, etno jazz for a while and even folklore, but in a very genuine manner. So you see, they all are close to my heart and all of them help me express myself, but jazz is and will always be my greatest love.

Because you have mentioned the word "etno", we must also let our readers know that there is a new album performed by Irina Sârbu - "Ethnotic". A few details, if you may?
I have recorded an album this year with Capriel Dedeian on the guitar, Dragoș Mihu on the drums, Anatol and Cezar Cazanoi, Laurențiu Horjea on the bass. It is based on traditional folklore themes in an original and intrinsic manner. I really like the outcome. We have not managed to take it to a record label, yet, but we aren't lacking offers. So, I am waiting for it to reach your houses.

Where does Irina Sârbu feelsmost at home, on the Romanian Athenaeum's stage or on Wolf's Meadow at Gărâna?
Everywhere as long as one is able to express his soul and do the job one loves. I feel good everywhere.

Besides the concert on Thursday evening at the Romanian Radio Hall, what other projects do you have?
On 21st June, we will perform in an open-air TRI project, along with Ciprian Parghel and Adrian Nadin. It is again a project based on folkloric themes, but there being two instruments and a voice - that is the cello, bass fiddle and I who do the vocal percussion, as well - it is something much more personalised as sonority and repertoire, but again, it is based on improvisation, friendship and music. It it wonderful! Apart from that, I will continue my "Classic is Fantastic" theatre project andthen I will take a break till autumn when we are sure to meet again.
Marina Nedelcu
Translated by Anca Romete and Elena Daniela Radu
MTTLC, the University of Bucharest