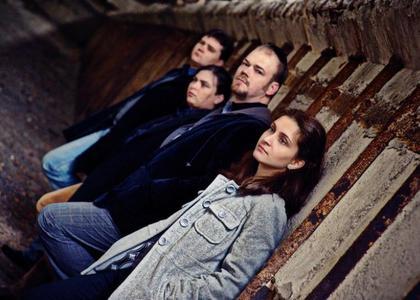 The 'Arcadiaț Quartet' - an Extraordinary Recital in Bucharest
Tuesday, 19 May 2015 , ora 14.27

The "Arcadia" String Quartet
invites the public to its extraordinary recital, which will take place at the
"Tinerimea Românã" National Art Centre
, in Bucharest, on Tuesday, 19
th
May, 2015.
The "Arcadia" String Quartet
- the most valuable young string quartet in Romania, which has won recent and very important international prizes in string quartet competitions - will perform its first concert in our capital, after a long series of performances on international stages.
Rãsvan Dumitru -
who is the second violin of the
"Arcadia" Quartet -
talked to us about the Quartet's performance at the
"Tinerimea Românã" National Art Centre.

You will perform your first recital in Bucharest after a long series of important concerts on the world stages. Why is this happening only just now?
It is very difficult to give an answer to your question, because I don't really know it. The fact is that our artistic activity takes place mainly outside the boundaries of Romania, and that is, of course, a consequence of the international competitions we have won over the past few years. We might need more time to get to be known in Romania.

As you said earlier, the "Arcadia" String Quartet is a laureate of very important international chamber music competitions - and I am mentioning those in Osaka, London and Hamburg. Has your artistic vision changed in any way after winning these competitions?
Of course. Winning these competitions has given us self-confidence and the assurance that we are walking on the right path. It has opened us several doors. These competitions helped us develop relationships with a few important talent agencies and our career has developed a lot ever since.

What is your proposal for the public attending this evening's recital at the "Tinerimea Românã" National Art Centre?
We will interpret the String Quartet No. 2 'The Joke' in E - flat Major, Op. 33, by Joseph Haydn - a quartet which is very close to our hearts, then, we will interpret the String Quartet No.3, by Béla Bartók. A parenthetical remark, we will prepare the complete cycle of quartets, by Béla Bartók in the following years; we intend to record it. Then, we will interpret the String Quartet No. 2, "Intimate Letters", by Leo¹ Janáèek. We also recorded an album which contained the complete series of Janáèek's quartets and which was released by Orchids Classics two years ago. The album will be available for purchasing during the concert.
We are waiting eagerly and with our arms wide open for you to come to our concerts. We hope to have as many people present as possible. We assure the public in Bucharest that the following concerts' programme will also be extremely interesting. So, do not miss our concerts! You won't regret it!
Lucian Haralambie
Translated by Izabela - Elvira Vațe and Elena Daniela Radu
MTTLC, The University of Bucharest