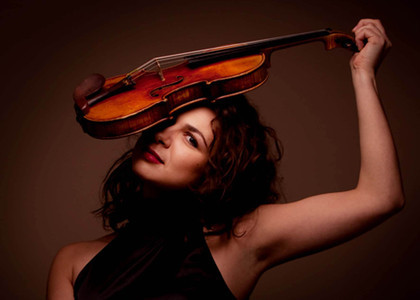 Sarah Nemțanu - the Soloist of the Romanian Radio National Orchestra
Friday, 15 May 2015 , ora 13.24

Violinist Sarah Nemțanu will be on the stage of the Romanian Radio Hall on this Friday evening of 15th May, 2015. The artist occupies the position of first violinist of the French National Orchestra and the sound made by her violin can be heard in Radu Mihăileanu's film, Le Concert. She will interpret exactly the opus which can be heard on the soundtrack of the above-mentioned film, which is the Violin Concerto in D major, Op.35, by Pyotr Ilyich Tchaikovsky, alongside with the Romanian Radio National Orchestra, conducted by Nicolae Moldovanu. Sarah Nemțanu talked to us about this concert and stated the following:
To me, its first meaning, of Romantic piece of music, doesn't describe something naïve or too sweet, it also describe something which comes from within; and this concert has all the lights and colours specific to the Romantic Era; it also describes something which dwells within us, something which is related to pain … to life. It has everything which one encounters in one's life.

It is the same opus for which the screenplay of the film Le Concert, by Radu Mihăileanu, was made. What are your memories of that project? How did the dialogue between Mélanie Laurent, who played the leading role, and the director of the film took place?
It was a very interesting adventure for me, because I didn't just perform the concerto for this film; I first recorded the concert, then Radu Mihăileanu filmed the final scene, when I perform. I taught Mélanie Laurent not how to play the violin, but how to imitate a professional violin player beautifully for six months. I participated in the filming process - a week in Romania - because some of the scenes were filmed there. It was an uplifting experience. The profession of film acting and that of a musician are completely opposite, because we, musicians, rehearse a musical work or a concert at home for days in a row for only one hour of music; and for one hour of film, everything is cut - two minutes here, a scene there, another two minutes there, and a scene there for one minute of filming. An actor's process of preparation for a role is completely different and Mélanie Laurent, the actress, was surprised to find out about my profession, because she met me as I was on tour alongside the orchestra and she saw with what density, she saw how difficult it is to perform live all the time when being on stage.

In an interview you gave at the première of the film, you said that this project had changed your way of viewing music. What does that mean more precisely?
Being on stage is an unique feeling. For a theatre actor and a musician, the stage is a place where time ceases to flow. You don't feel whether it is flowing fast or slowly, it is something … it is a special kind of a parenthesis. It is true, when I saw how the filming process was unfolding, that everything was so cut … there was no spontaneity in it, the experience was not being lived … I realized that I was given a great chance to practise this profession … that of a musician performing live on stage!

When you were twenty-one years old, you were appointed the first violinist of the French National Orchestra.What was your first reaction?
I was a senior student at the Conservatoire de Paris and that was definitely my dream, to become a first violinist, because my father was first violinist in Bordeaux and I have been raised in that spirit; I watched him rehearsing alongside his orchestra colleagues and I found something very humane in him rehearsing and ... in sharing the music. That was a very interesting experience for me. I don't like performing alone on stage, although the symphonic repertoire is very helpful to a musician, when it comes to making him/her understand the sonatas for piano and violin by Beethoven better. When you know all the symphonies by Beethoven, something happens and you are able to understand them even better. This is how I have perceived my father, but I have always been convinced that the symphonic music has its purpose; it represents the ideal basis for a musician. The most important thing for me, for my profession, is to be passionate about music, to love it.

The conductor of this evening's concert, Mr. Nicolae Moldoveanu, is also a violinist. How did the collaboration between him and the Romanian National Radio Orchestra go?
Nicolae Moldovanu is the kind of person who understands very well what I want to interpret and because he is a violinist himself, he feels the directions I want to go to during the concert. I found out, after the rehearsals, that the Romanian National Radio Orchestra has a wonderful level of training. I am speaking very honestly! They listen to everyone very carefully, they are very focused and I can tell you that they are trying to do their job very well. That is the thing I like the most about them. Their high-level of training!
Listen to this very well-known and beautiful concerto! Bring your children, too and your entire family to spend a wonderful time together!
Interview by: Lucian Haralambie
Translated by Izabela - Elvira Vațe and Elena Daniela Radu
MTTLC, The University of Bucharest