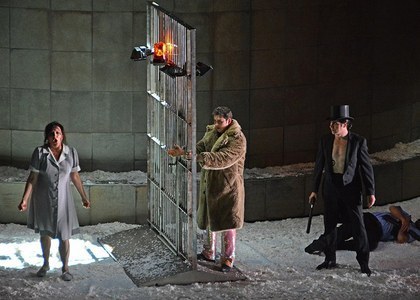 Interview with Tenor Teodor Ilincăi
Thursday, 2 July 2015 , ora 9.47

Today as well, tenor Teodor Ilincăi performs as the main role in Charles Gounod's Faust at the German Opera in Berlin. This is the fifth performance after the premiere that took place on 19th June. Alongside the Romanian artist, the cast of the production directed by Philipp Stölzl includes Ildebrando D'Arcangelo, Krassimira Stoyanova and Markus Brück, among others, while the conducting role belongs to Marco Armiliato. Before today's performance, 2nd July, 2015, Teodor Ilincăi gave us an interview about the Faust production, whose direction was not praised, the soloists being the ones who saved it.

What are the challenges of this role?
There are a lot of them! First of all, the French style, which is different from what I usually sing, my repertoire focusing more on Italian music - Verdi and Puccini. It's different because it raises the question of interpreting it in another manner, vocally, mainly. The pronunciation is, again, a challenge, since it's not the same as the spoken language. Enthusiasts know this very well.

Even more so, the performance takes place in Berlin, that is, in the German space.
That is correct... they know the story well there. Also, in Germany, there are staging challenges, because... through this direction they're doing, they're trying to bring something new to the table, but not always and also not very well connected to real history, unfortunately.

This was also going to be a question, since, from the photos I've seen on the institution's website, I can see that the enactment is a modern one. How did the audience take this enactment? I know that in Berlin, people are not open to change.
They are open to change, generally, but especially the Deutsche Oper audience loves the classical productions and directing, so it wasn't received very well. It was actually booed. As for us, the singers, we've fortunately been all successful. We've been very warmly received.

I know that you've already had several performances, starting with the premiere on 19th June. So, may I ask you how the collaboration with the other soloists and with conductor Marco Armiliato is going?
This contract and this Faust have been like a balm to me, because after only a couple of days we started feeling like a family, like a team. I consider myself so lucky to have worked for the second time with Marco Armiliato, whom I consider one of the greatest contemporary conductors. His results speak for themselves. To boot, my colleagues behaved downright exceptionally and thank God, I had lots to learn from them during these rehearsal weeks. Krassimira Stoyanova, in spite of her age, sings like an angel, makes magic. Ildebrando D'Arcangelo is an outstanding actor... and so on. All my colleagues from the Deutsche Oper are very nice and very well trained.

I understand, therefore, that it was the soloists who saved the performance, and not the direction.
That's right and that's also what the specialised critics have written.

What comes next in Teodor Ilincăi's agenda after Faust?
This year has been and will still be a year with a very complex schedule for me. I have very little time at my disposal after Faust to prepare Tosca very well. I will have my debut in Tosca this summer, on 13th August, to be more precise, in San Sebastian, as a part of an opera festival. Then, there comes the Macbeth tour, alongside with the Royal House Opera, in Tokyo, in September. Also in September, I will be gladly returning to the Vienna State Opera, where I will sing Pinkerton role in Madama Butterfly.

Interview by: Andreea Chiselev
Translated by Bucur Adrian and Elena Daniela Radu
MTTLC, the University of Bucharest