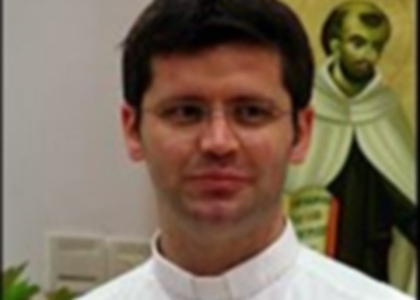 Interview with Priest Francisc Doboș - the Roman Catholic Archdiocese of Bucharest's Spokesman
Tuesday, 23 June 2015 , ora 10.35

Today, 23
rd
June, 2015, Saint Joseph Roman Catholic Cathedral celebrates sixty years since it was selected and nominated as a cultural monument. On this occasion, there will be performed a sacred music concert in the cathedral, on an organ with an orchestra, a chorus, soloists starting at 19:30; the access to the concert will be free. You can get details of this cultural monument 's history and architecture and, of course, about the anniversary concert, in the interview with the priest
Francisc Doboș
- the Roman Catholic Archdiocese of Bucharest's spokesman.

Could you tell us something about this place of worship's historical moments?
We could say the Pope John Paul II's visit in 1999 is the most important moment for the Catholic community in Bucharest, but we can also name the important events as early as it was founded, 130 years ago - the cultural events, naming the liturgical celebrations, the important people who celebrated the High Mass at the Saint Joseph Roman Catholic Cathedral; we are also referring to a long list of musical events. We are talking about the cultural aspect in which the Catholic community has evolved and integrated so well into the city and has resonated with the people who also love music and culture and raise their thoughts to God not only through prayer but also through music.

Speaking about its architecture, what defines the Saint Joseph Cathedral?
It was deigned by the Viennese architect Friedrich von Schmidt between 1873-1884, in the Romanic Style, with Gothic elements. It is a singular building of such kind in Bucharest and it is a well-known fact that Vienna's City Hall is another of Friedrich von Schmidtse's architectural masterpieces.

You spot this anniversary moment with a concert on 23rd June. Could you tell us some details ?
It is a concert performed in the cathedral, by the Baroque Orchestra of the National University of Music in Bucharest, the Radio Brass Ensemble and the Musica Sacra' Choir; it is Saint Joseph Cathedral's Choir. During the concert there will be performed works composed by Georg Friedrich Händel, Wolfgang Amadeus Mozart, Josef Rheinberger and Anton Bruckner, among other composers. By means of both these works and the concert itself, we want to emphasize this cathedral's anniversary as a cultural monument inherent to the building, that, from the theological point of view, represents the bishop's place par excellence to the Catholic believers, the place where the Catholic believers retrieve themselves; and due to this concert it is the place where music and beauty lovers revive.
Andreea Chiselev
Translated by Anca-Elena Vezeanu and Elena Daniela Radu
MTTLC, the University of Bucharest