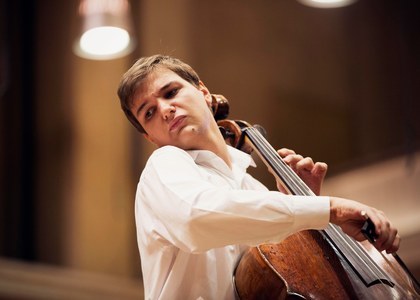 Interview with Cellist Andrei Ionițã - the Winner of the XVth International Tchaikovsky Competition
Thursday, 2 July 2015 , ora 9.44

At only 21 years old, Andrei Ionițã is the winner of the cello section of one of the most prestigious competitions of musical interpretation. During the
Award Gala
which took place at the
Tchaikovsky Concert Hall in Moscow
yesterday evening, 1
st
July, 2015, the Romanian artist was awarded the
First Prize
and the
Gold Medal
, in recognition of his exceptional performance during all the stages of the competition. Although he is being inundated with congratulation messages and concert proposals and, actually, he is scheduled to perform today, 2
nd
July, 2015, during the
Gala Concert of Laureates
of the
XVth International Tchaikovsky Competition,
we are still having the pleasure of congratulating
Andrei Ionițã
personally and taking this interview.

Andrei Ionițã, how was this competition? How was the atmosphere on stage and how are you feeling now?
I think it is superfluous to say how exhausting everything was. Especially emotionally, everything was so exhausting to me. I did my very best on stage, I exposed myself to the people in the audience, to the members of the jury and, here I am , succeeding to win the first prize.

How would you describe the atmosphere there? Tense, I presume.
Yes, indeed, it was a pretty tense atmosphere, but, actually, the greatest kind of pressure always comes from within yourself, for every competing artist who wants to give his very best, especially under these circumstances, needs to take into consideration the amount of exposure this kind of competition is enjoying. Apparently, I have been watched by millions of people from 170 - 180 countries. In the light of these circumstances … I didn't care about the results more than I did about the fact that I had this chance to be in the spotlight. And yes, I wanted to present myself in the best and most beautiful way possible. I am happy that I succeeded and that my performance was appreciated. I would also like to thank all Romanians who supported me. I felt loved!

It is true. Certainly, we all watched you perform, on the edge of our seats, and we were very impressed. You interpreted two extremely-difficult musical works and you interpreted them extraordinarily. I am assuming that was the highest moment of tension for you, wasn't it?
To a certain extent, yes, it was, there was a great pressure, but I was also very glad to be able to perform Tchaikovsky and Shostakovich in Saint Petersburg, their birth town. I was very glad to be able to perform on the stage of the city's philharmonic; it is an extraordinary concert hall. The public supported me, as did the orchestra … it was a truly special moment for me.

How were the public's reactions?
I received only positive reactions from the public, even from the members of the orchestra, especially during the final stage of the competition. Before they announced the results, some people told me I was their favourite. However, I still couldn't believe my ears when they announced the winner.

How was the jury?
I couldn't see their reactions until after I had performed. Only Mischa Maisky and the artistic director of Carnegie Hall were present at theAwarding Gala, yesterday. They congratulated me, of course, and they offered me the best wishes. I might even receive an invitation to perform on the stage of Carnegie Hall. I am to keep in touch with both of them.

Earlier you spoke to me on the telephone precisely about today's schedule … have doors already started to open for you?
Yes, let's just say that the madness has already started. I have some rehearsals scheduled with maestro Gergiev. He will conduct the Gala Concert. We are going to rehearse in Saint Petersburg tomorrow, and immediately after that we are going on a concert tour to Finland. I have heard something about some concerts in Germany and Japan, too. We have received an invitation to go on a concert tour in China in November, as well. Representatives of some classical music agencies have come to me, they have already contacted me ... we will see. I have to collect myself now and make the right choices. This is the most important thing for me to do now.

Do you know when you will perform in our country, in Romania?
I am most certainly going to perform alongside the Radio National Orchestra next year, in May, and I also have a concert scheduled in June, when I am going to perform alongside the Bucharest Philharmonic.

Are there any people or teachers whom you would like to thank for your success, that, of course, aside from the immense personal effort you made to get to this result?
I would like, first and foremost, to thank my cello teacher from Bucharest, Ana Paladi. After all, I owe her almost everything; she has always been by my side, even after I left Romania. Also, I would like to thank my cello teacher from Berlin, Jens Peter Mains, who is an extraordinary human being and an extraordinary teacher. I haven't been supported by a lot of people, but those who have, care a lot about me and I would like to thank my family and all those who have been by my side all along.

Are you planning to stay in Berlin after completing your studies to perhaps continue them or are you having other plans?
I don't know what I am going to do after I finish my studies next year. I would like to stay in Berlin. It is a very artistically effervescent city. I feel good there; I have found my place there. I will make my début as soloist with the Deutsches Symphonie - Orchester Berlin in the Great Hall of the Berlin Philharmonic. Yes, I, too, would like to settle myself in Berlin in the future, at least in the following years.

Congratulations, once again! And we promise to be by your side and we are waiting for the Gala Concert to be available on the internet so we can all watch you perform again.
Thank you! And yes, the Concert Gala can be watched on the Internet, too (starting at 19:00, on medici.tv)
Andreea Chiselev
Translated by Izabela-Elvira Vațe and Elena Daniela Radu
MTTLC, The University of Bucharest