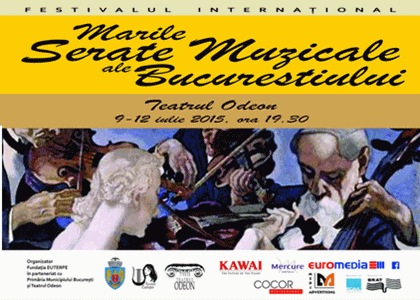 Interview with Anton Niculescu, the Director of the 'The Great Musical Evenings of Bucharest' International Festival
Thursday, 9 July 2015 , ora 10.05

The first edition of the "The G
reat Musical Evenings
of
Bucharest
" International Festival will take place at the "Odeon" Theatre, between 9
th
- 12
th
July, 2015. The event is a much awaited one for all the classical music lovers and it brings together sonorous names from all over the world. We have found out further details from the cellist Anton Niculescu, the director of the festival.

The first edition of the "The Great Musical Evenings of Bucharest" International Festival begins today. What does this project offer the public?
First of all, it offers very, very good music - pretty rare musical works, which are being performed on concert stages all over the world - and highly-acclaimed interpreters not only from several European countries, but also from Japan. I can mention Bruno Canino - the great chamber music pianist; Vladimir Mendelssohn, a Romanian violinist who left the country and lives in Holland now. He was my colleague in the Brașov Philharmonic Orchestra and at the Music Conservatory, and I performed with him in many concerts. Takashi Shimizu, one of the greatest contemporary violinists and one of Jascha Heifetz's last students is another guest; Michel Bourdoncle, a Frenchman who studied in Moscow; Luisa Sello, an Italian flautist, who has recently performed at Carnegie Hall; Dominique de Williencourt, a French cellist; Mario Hossen, an exceptional violinist and a paganinist, I would say, and who is actually going to interpret some of Paganini's works during the festival. Tetsuro Miyoshi, the principal contrabass performer in the Osaka Philharmonic Orchestra and, last but not least, Andrei Licareț, our younger colleague, who has taken an extraordinary plunge lately; Maria Movileanu, the principal violist in the "George Enescu" Philharmonic Orchestra and Horia Văcărescu, a young man who has been living in the UK for many years, and is an extraordinary violinist. Director Cristian Mihăilescu will be the moderator of the event and will be the host of these musical evenings.

What is this evening's programme?
During this evening's programme, the audience will have the chance to listen to the Nocturne from the String Quartet No.2 in D Major, by Alexandr Borodin, the Sonata for Flute and Piano, H. 306, by Bohuslav Martinù, the Violin Sonata No.1 in G major, Op. 78, by Johannes Brahms and, after the intermission, the "Trout" Quintet, by Franz Schubert.

Are you going to invite the public at the end of the interview?
Yes, I warmly invite the Bucharest public to join us during these musical evenings … The atmosphere on stage will also be a warm one and we intend to send that warmth to the public, to add it to that of the public, and maybe cool ourselves that way … We are going to enjoy ourselves during these hot summer days with the same audacity with which every artist is prepared to perform.
Radu Mihalache
Translated by Izabela-Elvira Vațe and Elena Daniela Radu
MTTLC, The University of Bucharest