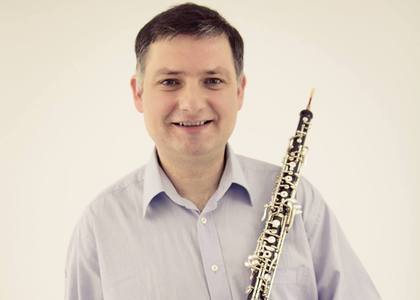 'The Sinaia Academy of Music', a New Project for Young Instrumentalists - an Interview with the Oboist Ludovic Armin Cora
Monday, 17 August 2015 , ora 9.01

The Sinaia Academy of Music
is a new musical teaching project that will be launched this year in September. The purpose of this project is to promote, develop and enrich the Romanian and international cultural heritage through musical education. The initiator of this project is Mr.
Ludovic Armin Cora
, an oboist and an artist at
Howarth of London
. His Worship offered us a short presentation of this project.

Could you tell us what the main traits of this project are?
The Sinaia Academy of Music is a cultural project that has the purpose of promoting, developing and enriching the Romanian and international cultural heritage through musical education. The structure of this Academy's classes is made up of the following instruments: the flute, the oboe, the bassoon, the horn, the trumpet and the trombone. We will start with the oboe masterclass, and we invited many teachers: Sir Gordon Hunt, who is the lead oboist of the London Philharmonia Orchestra and also a conductor and a world-class teacher; myself, as I am an artist at Marigaux Paris and Howarth of London, too; Dr. Florenel Ionoaia, who is an Associate Professor at the National University of Music Bucharest.
There will be 12 participants that come from Japan, China, Great Britain, Belgium, and Romania, who will perform a recital. We will try to promote them both through the local and the international mass-media. In only four months we have managed to turn our masterclass course into one of the top world-class courses by establishing a strategic partnership with the renowned music house Howarth of London. We will focus on chamber music classes, a subject that has a well-established place within this Academy.
The idea of launching The Sinaia Academy of Music belongs to the conductor Leonard Boga. I'd like to thank him for his trust, which enabled me to start this concept that is unique in Romania. We don't have much time, so I would kindly ask you to allow me to thank some personalities who contributed to the success of this first edition - Mr. Michael Britton, who is the Manager at Howarth of London; the Head Assistant of the National University of Music, Dr. Florenel Ionoaia; Dr. Cristina Popescu-Stănești, who is also a Head Assistant and a secondary pianist; Mr. Ferenc Ianos, who is an oboist at the Tg. Mureș State Philharmonic Orchestra; our partner, Ms. Emilia Duport, who is a director of the Carmen Sylva Cultural Centre in Sinaia; Ion Gorgoi, the director of the Peleș National Museum; Mr. Marius Savu; Ms. Oana Crăciun; Mrs. Kinga Tomos, who is an exceptional web designer and Mr. Silviu Buturugă, who created the website, www.academyofmusic.eu, in a really short time. As an executive director of The Sinaia Academy of Music, I would also like to give special thanks for our partnership with Radio Romania Music.
We kindly expect you to join us at the concerts that the teachers and the students of this Academy will perform.
Alexandru Mija
Translated by Ioana Săbău and Elena Daniela Radu
MTTLC, the University of Bucharest