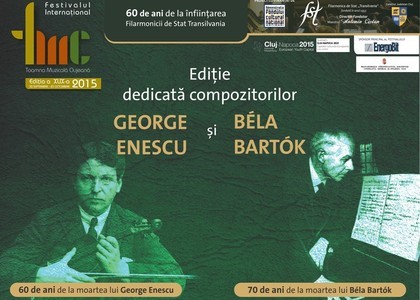 Interview with Marius Tabacu, the Artistic Director of the Cluj Philharmonic Orchestra
Wednesday, 30 September 2015 , ora 10.49

The 49
th
edition of the
'Cluj Musical Autumn' International Festival
will start on Wednesday, 30
th
September, 2015. Marius Tabacu, the Artistic Director of the Cluj Philharmonic Orchestra, talked to us about this year's edition.

The first concert within the 'Cluj Musical Autumn' Festival is taking place today. Which are the musicians who will perform in the first manifestation of this evening?
The first concert within the Festival will be held by the conductor Daniel Cohen, having Michael Barenboim as a soloist. The entire Festival is focused on the names of two great composers of the twentieth century - George Enescu and Bela Bartok - whom we commemorate this year. On this occasion, we will listen to the Rhapsody No.1 in A major by Enescu, the Violin Concerto No.2 by Bartok and the Symphony No.7 by Beethoven. In fact, the entire Festival, which is at its forty-ninth edition, is focused on the names of these two great composers.
I do not usually draw a lot of attention upon concerts, because that would mean casting a shadow upon other sorts of events. Every concert is important to us. I hope that the audience feels the same way ! However, I will make some exceptions… we will have the original version of Cantata Profana conducted by Cristian Mandeal, with the text written in Romanian, as it was conceived by Bartok himself while he was wandering through Transylvania. And we will celebrate the anniversary of some composers from Cluj, such as Ede Terenyi, who is eighty years old, the seventy-five-year-old Hans Peter Turkand and Valentin Timariu, who is seventy-five years old as well. We will commemorate Dan Voiculescu, who passed away, unfortunately; he would have turned seventy-five this year.
The festival lasts for an entire month on a very low budget, but we face this situation every year and we've managed to deal with it so far, thus organising the longest-running classical music festival in this country and in Europe, too, I think.
The audience is welcome. We are trying our best to keep its members as informed as possible, which is why the tickets are mostly sold out.
Lucian Haralambie
Translated by Iorga Elena Alexandra and Ioana Săbău
MTTLC, the University of Bucharest