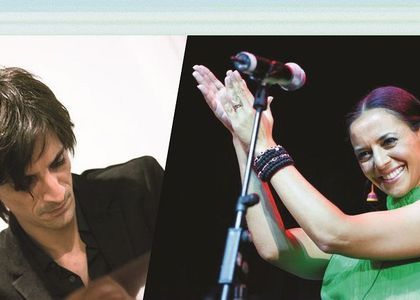 An Interview with Analia Selis and Mariano Castro
Wednesday, 7 October 2015 , ora 8.57

After the two editions of the
'Do You Like Tango?'National Tour
that took place in the autumn of 2014 and June, 2015 all around the country with the cellist Răzvan Suma and the Argentinian guitarist and composer Julio Santillan, Analia Selis comes back on stage at the Radio Hall with a new event dedicated to tango music on Wednesday,7
th
October, 2015. This time, the artist invites us to a symphonic tango evening with the Argentinian pianist Mariano Castro and the Radio Chamber Orchestra conducted by Radu Popa. The programme includes famous scores signed by great tango composers, such as Astor Piazzolla or Carlos Gardel, but also some surprising scores from the Romanian repertoire. We found out some important details about this performance from the singer Analia Selis and the pianist Mariano Castro.

What will you perform for the audience on Wednesday evening?
It is our first symphonic tango concert, a project Mariano and I have been dreaming about for a long time. We will also present the tangos that we performed during the 'Do You Like Tango?' National Tour, because they are the most famous works, in an original arrangement made by Mariano Castro for this project: chamber orchestra, piano and voice. We will bring some of the Romanian works that surprised the audience during the 'Do you like Tango?' Tour, as well as a bit of a fairy tale and acting in every tango I will be performing along with the orchestra; it will be exactly as I used to dream about it.

The rehearsals are taking place at this very moment. How is this collaboration going so far ?
Very well! I`m nervous though. I`ve never sung along an orchestra or a conductor before. This is the first time when I perform with a classical music conductor, in a classical environment. I hope to rise to the high stardards of this event, of the orchestra, of the conductor and, why not, of Mariano, who is a pianist that performs tango extremely well.

What do Romanians think about tango?
I started 'Do you like Tango?' a year ago. My first tour was in October last year and I found out about the great opportunities that tango can offer. It has offered me great opportunities so far, greater ones than I had expected. This is a well-received type of music. The Romanian audience loves tango. It is a flexible style. Everywhere I`ve been, regardless of the context, the tango that I proposed to the audience was very well received.

This means that it touches both our souls and yours.
We hope so. My soul is deeply moved by tango. It is a type of music that I have never performed before. As I was telling you, I`ve discovered it, and after learning more about it, I came to the conclusion that even if I wasn't born in Buenos Aires and I've never sung tango before, this kind of music is running through my veins.

Mr. Mariano Castro, what is your connection to our country?
I first came in Romania in 2009 with the Narcotango group from Argentina, then I returned in 2011 to perform both a concert at the Palace Hall and a choregraphic concert by Răzvan Mazilu. That was where I met my wife, Simona. We got married in 2013 and now we live half of the time here in Romania and the other half in Buenos Aires.

How did your collaboration with Analia Selis start?
One day, someone told Analia that there was a pianist from Argentina staying in Romania, so she called me. She told me: 'let`s collaborate'. We are both from Argentina, so we can perform both tango and Argentinian music. We have a very beautiful folklore. We started a duet with only a piano and a voice. Last year we thought about doing something greater. I am also a music arranger and a member of an orchestra, so my suggestion for them was to perform a symphonic tango. I always enjoyed this kind of music. I listened to the Romanian orchestras, which are very good, and we started working on this project immediately.

Is this a new project ?
Precisely. It`s the first time we hold these concerts. We are all nervous, but also very happy. We already received the confirmation of many concerts all around the country. The programme we have chosen speaks a lot about this kind of music, the one in Buenos Aires, it includes both old tangos and contemporary ones, too.

Are all the arrangements of this programme made by yourself?
Exactly. All the arrangements are original, I made them myself. Nobody has ever listened to them before.
Andreea Chiselev
Translated by Ilinca Elena Dinulescu and Ioana Săbău
MTTLC, the University of Bucharest