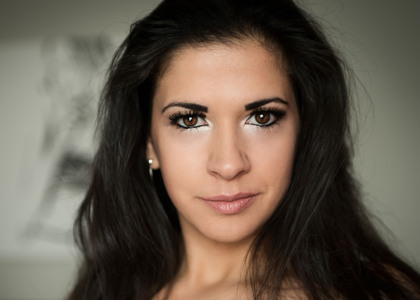 Laura Tătulescu talks about her first performance as Helena from 'A Midsummer's Night Dream' opera by Benjamin Britten, at the Klagenfurt Opera
Thursday, 29 October 2015 , ora 9.45

Soprano Laura Tătulescu holds her first performance today, 29
th
September, 2015, as Helena, at the Klagenfurt State Opera. Laura Tătulescu herself talked to us about this new role and its challenges, in a recent interview for our station.

Laura Tătulescu, you will debut this evening as Helena in A Midsummer's Night Dream by Benjamin Britten, on 29th October - it's a challenge. What drew you towards this role?
It is indeeed a challenge ! I think everyone knows I was born in America, so I speak American English. Shakespeare's story is a classic British one. Not necessarily the story itself, but the language is as British as it can get. I could refer to this as my first challenge - finding a way to Shakespeare's language.
I was able to bring the colours Britten created and aimed for, the colours he clearly wrote in the score. I ould say Helena is a very diverse role. There are some moments in which she is deeply in love ! She is engaged to Demetrius, who keeps rejecting her because he is in love with her friend, Hermia. She is in love, she suffers, she is confused when Lysander falls for her... there are many aspects or her personality. She is also very temperamental, very dramatic and all these traits are conveyed through the music in extremely diverse ways.

How is it different, technically, from other parts?
I usually perform Mozart's music as well as a lot of French music...
Britten is completely different from what I have done so far. Not necessarily vocally... I could say he has different vocal technicalities than what I have worked with so far, the same ones as in Blanche de la Force. It is a role with many legatos, many pianissimos and a great musical discourse. Then there are numerous jumps, not big ones, but they are quite steep.

It is, indeed, a special work. What drew my attention was that King Oberon was played by a countertenor.
... a wonderful countertenor ! I haven't had the pleasure of listening to him until now, it was the first time. Yosemeh Adjey is the one who interprets Oberon.

What is the director's perspective? Will it be a staging that preserves the specificity of the Shakesperian subject or will it be a modern adaptation with the action placed in a certain context?
I wouldn't call it an absolutely classical adaptation, but it is one that works and doesn't stray from the libretto. It stays true to the libretto but has an enchanting quality which suits the play very well.
But Immo Karaman is a director who works intensely on the dramatic moments. From this point of view, we got along wonderfully, because he knew how to listen to our ideas and what we had to share, and he also knew what he wanted from the very start; together, we were able to develop something great. It's modern directing, but it works really well.

Another important stepping stone for you... I found out from your own website that you have played twenty-seven roles so far. Maybe there are more. Which of the characters you played do you think you resemble most?
I can say that I enjoyed playing all the roles so far, all the Mozart roles, which I performed all over the world. If I were to pick a single character to identify with, it would probably be Blanche de la Force from Poulenc's Le dialogue des Carmelites. Ever since I was born, I have been very close to God, so I could understand Blanche's choice of joining the monastery. It moved me in a very special way; I could say this is the character I have something in common with, something very important in my life.

Are there any other roles and debuts to come ? What more can you tell us ?
I arrived here straight from Klagenfurt, where we started the season with Mahler's Symphony No.2, with the Atlanta Symphony Orchestra, conducted by the maestro Robert Spano. Then we arrived here to perform A Midsummer's Night Dream two times, conducted by Alexander Soddy, who also directed Le dialgue des Carmelites last year.
After A Midsummer's Night Dream I will perform at the Florida Grand Opera, where I will be taking on a role I played two summers ago in Santa Fe, Norina from Don Pasquale, to be specific... I am very excited about this. Afterwards I will be debuting at the Cincinnati Opera - Marzelline in Fidelio. Next season I will be debuting at the Maggio Musicale.

In what production?
I can't tell you until next season's programme is issued.
Alexandru Mija
Translated by Ana Gheorghiceanu and Ioana Săbău
MTTLC, the University of Bucharest