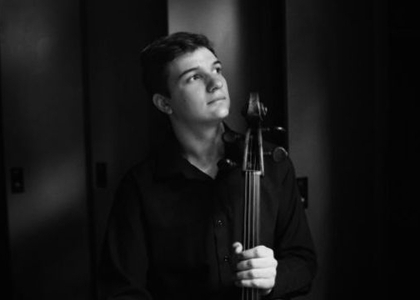 Interview with Cellist Andrei Ioniță
Wednesday, 14 October 2015 , ora 9.49

On Monday, 12
th
October, 2015, during the break of the extraordinary concert held on the occasion of the seventy-fifth anniversary of the Tchaikovsky Hall (the Grand Hall of the Moscow Conservatory), cellist
Andrei Ioniță
, who was awarded the First Prize and Gold Medal this year, gave us the following interview. The concert was performed under the title "
Marking the 75th Anniversary of Tchaikovsky Concert Hall. Award winners. Passing the Baton From Generation to Generation. Grand Gala featuring winners of International Tchaikovsky Competition"
.
It was an extraordinary experience for me. It was, in a way, my great first appearance in Moscow; it was the first concert that I performed after the ending of the competition, which took place in St. Petersburg, not Moscow. So this was my first appearance on a big stage in this city and it was actually a great honour to participate at this extraordinary concert which celebrates the seventy-fifth anniversary of the Tchaikovsky Hall, especially since I participated alongside maestro Spivakov.
The difference between this concert and other ones I have previously performed in was the selection of the repertoire, which did not belong to me. I was asked to perform a transcription. Actually, I was asked to transcribe the viola part of Mozart's Sinfonia concertante - which was initially written for two soloists and a chamber orchestra - for violin and viola. I was asked by the organisers to transcribe the viola part and perform it on the cello. It has come to my understanding that maestro Spivakov and Denis Matsuev have somehow put this programme together. It really was a great challenge, first of all, a purely technical challenge; it is extraordinarily difficult to perform this work on a cello. Moreover, the alto sound and timbre of the viola had to be somehow recreated through the sound and timbre of the cello. I hope that I succeeded with this, or at least that the audience felt it. I was really pleased with my performance and the experience of it was an absolutely extraordinary one. Actually, everything that happened to me in Russia was surreal , starting with the competition. The first invitation to Russia that I received after the competition was to Irkuțk, in the middle of Siberia. I performed there at Denis Matsuev's music festival. I visited the Baikal Lake. I grabbed video recordings at midnight in St. Petersburg. And now I performed about all this…It's…it all seems unreal.

What changes have you undergone after winning the Tchaikovsky Competition from an artistic point of view ? .
I could say that I have gained more confidence in my own performance, especially since not only the jury acknowledged me , but the entire audience that watched me also did.. From this point of view, I feel more relaxed on stage and confident about my approach to music and the instrument that I'm playing. At the same time, each and every concert I was invited to was considered to be a first appearance, so I had to give my absolute best on every occasion. My schedule is already packed - especially October- and for this reason, I have to be extremely well-prepared and keep my temper under control. This is a great responsibility.

What do you think the significance significance of this release on the international stage is ?
The Tchaikovsky Competition is one of the most acknowledged contests of this sort, if not actually the most famous one, if we consider its history. It all started at some point during the '50s. Compared to the first editions, what happened this year was extraordinary, with those live on-line broadcasts by the Medici TV. It has come to my understanding that millions of people watched it. After all, it is not that important whether or not an artist is awarded the first prize or any other one. What really matters is the chance to be on stage, in front of the whole world. These competitions are chances for young musicians to assert themselves. None of these competitions are organised for the sake of entertaintment or for each instrumentist to show that he is the greatest one out of one hundred people.

What are your plans?
I will be holding concerts almost every week. I will perform at the Cadogan Hall, in London, along with maestro Gergiev and the Mariinsky Orchestra. I have a concert in Dusseldorfand perhaps another one in Munich, too… I might go to Baden Baden along with with maestro Gergiev. In November I will perform as a soloist for the first time with the Deutsche Symphony Orchestra at the Great Hall of the Berlin Philharmonic. I will also perform in Chișinău on the occasion of Romania's National Holiday. I also will perform with the Saint Petersburg Philharmonic Orchestra. Every concert that I mentioned so far should take place until 2015 ends. I will start all over again in 2016 - Berlin, Switzerland, Korea, and also Italy… I don't know where else. In March I will have my first appearance in Romania. I will perform with the Romanian Youth Orchestra. In May, I will perform a concert in Iași and another one with the National Radio Orchestra; in June, I will perform with the 'George Enescu' Philharmonic Orchestra conducted by maestro Cristian Badea.

Have you been contacted by the organisers of the 'Enescu' Festival?
I am almost one hundred percent sure that I will take part in the festival in two years' time. The plan is to perform with maestro Gergiev and the Munchen Philharmonic, whose main conductor and Artistic Director he has recently become. I have yet to confirm that this plan will certainly take place, but this is mainly what it is about.

Have you contacted Valery Gergiev after the festival ended ?
I have received his invitations through the secretaries who work for him. He met in Switzerland, at the Verbier Festival, in July. He is extremely busy at all times. I was thankful even for those few minutes in which I had the chance to talk to him. He asked if I had calmed down after the competition; he also asked me about my family and my other concerts. Valery Gergiev is one of the few conductors who organise a lot of concerts for young musicians. His activity is impressive, especially the Tchaikovsky Competition.

When will you graduate from the university ?
I'm halfway through my studies. So far, I attended the first three years and there's another one left until I finish mylicense degree. Two years after that I will have finished my master's degree, too. At the moment, the plan is to stay in Berlin for as long as possible. I feel comfortable here, the emulation is extraordinary… I don't know exactly when it started, but ever since I arrived in Berlin I have met many, many top young artists and absolutely extraordinary musicians. Somehow…I can name it the European capital of young musicians.

Where do you feel most comfortable? In Berlin, in Bucharest…
Firstly, I feel comfortable as a Romanian. Somehow, after the contest, I had more and more connections with the Romanian community - everywhere I go, I connect with Romanians. I feel comfortable in Berlin. Normally, Romania will still be my home; Russia, on the other hand…I couldn't say that it is a foreign place to me… it seems pretty familiar from a cultural standpoint and I believe that the way of living isn't as different as one may think.

If you had the possibility to choose the concert repertoire, what would you pick?
I want to be appreciated and to have the chance of becoming a versatile artist who can approach any repertoire, regardless of the era it belongs to. For example, I feel that Shostakovich is very close to me, which I believe I have already stated before…Shostakovich's spirit is so close to mine, as well as all that broil and pain that simply emerges from his music, which at the same time is written in an extraordinarily intelligent way. I have a pretty romantic spirit, but I wish to have a repertoire as extensive as possible.
Alexandr Beleavski, Radio Romania correspondent in Russia
Translated by Irina Mihai and Ioana Săbău
MTTLC, the University of Bucharest