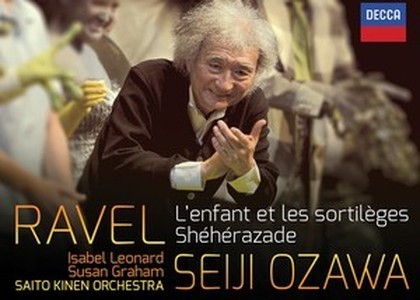 Ravel with Seiji Ozawa - Music box, 16th November, 2015
Monday, 23 November 2015 , ora 9.45

On 1
st
November, the famous composer Seiji Ozawa turned 80; on this occasion, the Decca record house gifted him with a new album, that Ozawa signed next to the Saito Kinen Orchestra, the most famous Japanese orchestra, founded by Ozawa himselft. The album came out on 14
th
August, 2015, and includes only the works of Maurice Ravel, with a common note: they are works for voice and orchestra, less known to the wide audience than, say, the famous Bolero. To boot, these works bring an homage to Asia and its musicale inheritance, more or less explicit.
It was only natural that an album with such special meaning be included in the Radio Romania Music's Vote 2015's best classical music album.
Here is the first work from this album: Maurice Ravel's Shéhérazade song cycle. The Saito Kinen orchestra's soloist is mezzosoprano Susan Graham, the most beloved American mezzosoprano at this time. And the three songs that make up the cycle are called: Asie, La flûte enchantée, and L'indifférent. Indeed, a mysterious world, wonderfully penciled in these three songs by Maurice Ravel.
The Saito Kinen orchestra is made up of the best Japanese instrumentalists, most of them members of famous European and American orchestras.
For that matter, this is not the first time we're listening to the Saito Kinen orchestra - the ensemble of the festival bearing its name in Matsumoto, Japan - on Radio Romania music. We've had the chance to admire the rich sound, details and the performance quality of these orchestra led by the most important Japanese composer of our age - Seiji Ozawa - before. Even though five years before he had a cancer intervention, Seiji Ozawa came back on the concert stage - in his first concert after that difficult time, he took the lead of the Saito Kinen orchestra.
And the Japanese are grateful: since 2015, the Saito Kinen festival has been called the Seiji Ozawa Matsumoto Festival, and this says a lot.
This album's main point of interest is definitely Ravel's lyrical fantesy L'enfant et les sortilèges, that Ozawa first recorded in his career, a mini-drama that Ravel worked on between 1917 and 1925, rarely performed nowadays, with a music specific to the third decade of the 20th century where elements of jazz and pentatonic Asian sonorities meet. The topic of this mini-drama is simple: made at the child who breaks everything in his room, the toys and furniture pieces come to life and threaten him. When the child looks after an injured toy, everything comes back to normal, and the drama ends suddenly when the child cries for his mother.
The soloists are mezzosoprano Isabel Leonard, contralto Yvonne Naef, tenor Jean Paul Fouchcourt and mezzosoprano Marie Lenormand. Accompanying the Saito Kinen orchestra are the Adult and Children Choirs of the Saito Kinen Matsumoto Festival.
The album includen an orchestral interlude between these two lyrical works, Shéhérazade and L'enfant et les sortilèges: the orchestral version created by the Ravel himself for the famous Alborada del gracioso.
The album can be listened to on Romania Radio Music on Monday, 16th November, at 19 o'clock, replayed on Sunday, 22nd November, at 13:05.
Cristina Comandașu
Translated by Adrian Bucur and Bîrsan Andrei Radu
MTTLC, the University of Bucharest