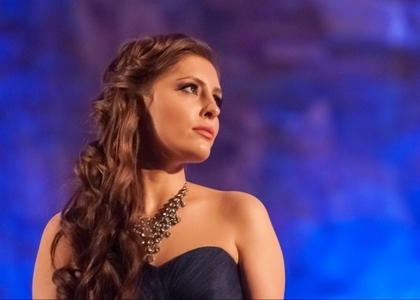 Elena Mîndru and the Radio Big Band - a gift to all jazz music enthusiasts
Thursday, 10 December 2015 , ora 8.55

The
Radio Big Band
concert on Thursday, December 10
th
, at
Sala Radio
, is a wonderful musical gift to anyone who loves jazz! Joining the Radio România band, conducted by the esteemed composer
Ionel Tudor
, will be the jazz vocalist
Elena Mîndru
, who lives in Finland and was kind enough to give us the following interview:

What can the people coming to Sala Radio on Thursday evening expect to listen to?
They will be listening to jazz standards from the Radio Big Band's repertoire, as well as several songs written and orchestrated by me. The pieces I write are a combination between classic jazz and some influences from Romanian folk music. We hope you'll be joining us, because what you will be listening to is something unique. Even though you might have heard the pieces before, that particular experience, with the proper atmosphere on stage, is unique, and it would be truly wonderful to have you there with us.

Lately, you have been giving a series of performances in which you promote pieces written by young jazzmen. Why take on such an endeavor?
Because I find it extremely important to make the most of the talented people we have around us now, who are still alive. And I think it's important for our generation to be involved, from time to time, in enriching the international music repertoire, the international jazz repertoire.

To this purpose you have also started a record label?
My record label was started to fulfill my own needs, as an artist. Because things are very different now from how they were thirty, even twenty years ago, in terms of big record labels, I started this one for my own use, but I'm glad to be able to use it in order to help other fellow musicians who come from even older generations than me. I thoroughly enjoy working with them! The Bega Blues band from Timișoara was the first one I worked with, and next up is Jazzy Beat, who are also from Timișoara.
Lucian Haralambie
Translated by Maria Rizoiu
MTTLC, University of Bucharest