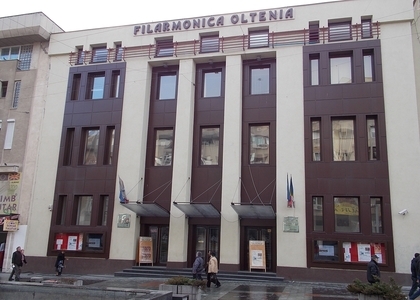 The Romanian Week within the Europe Season
Thursday, 14 January 2016 , ora 13.08

Europe Season - the concert series performed by 'Oltenia' Philharmonic Orchestra - continues these days with a week dedicated to Romania.
Vlad Drăgulescu
, the manager of 'Oltenia' Philharmonic Orchestra will talk about the events that will begin on Tuesday, 12
th
of January 2016.

This week within the Europe Season Series, performed by 'Oltenia' Philharmonic is being dedicated to Romania. What have you prepared these days for the audience?
Starting with this evening, we will have a series of four events dedicated to music, musicians, composers, students, to music universities of Romania, as we actually do every week for each member country of the European Union. This evening, at 19:00, Evelina Andrieș, a young student of the National University of Music, Bucharest who studies harp, will talk about her choice; why did she choose this university, why did she choose to study harp and will tell us a few things regarding the manner how the educational system of this university functions. Tomorrow evening, at the same hour, this time in the 'Filip Lazăr' hall of the 'Oltenia' Philharmonic, Misses Liliana Staicu will be with us and will present the Radio Romania Orchestras and Choirs. On Thursday evening will have among us Mihnea Ignat, Liviu Prunaru and the composer Doina Rotaru at a friendly evening, an evening where we meet with the public and we talk about what we will have to listen to the following evening.

Due to the fact that you arrived at the Friday evening, the week dedicated to our country will end with this concert held by 'Oltenia' Philharmonic Orchestra. Which is the programme of this evening that also represents the National Culture Day?
Prelude from Suite No.1 in unison in C major by George Enescu op.9 will inaugurate our concert, and then Doina Rotaru`s work - Clocks 3 for orchestra - in first adition, Mozart - Symphony No.36 in C major in the second part and Concerto in D major op.61 for violin and orchestra of Beethoven will end the programme of Friday evening.

Which are the projects of the Craiova Philharmonic for 2016?
First of all we have to go through with this special season that we have prepared. We still have other 19 concerts if we count this one too that will be held in the Romanian week. Then, we are already working for the following season. This will also be a special one and will be called 'Amitie Season' - the Season of Friendship, in which season we will concentrate more on the Romanian music from abroad. We are trying to bring as many musicians as possible who live abroad and are established there. I consider that in one month we will have the possibility to present to the audience the structure of this season. The International Festival 'Musical Craiova'will be held between 18th of November and 1st of December this year, with a contemporary aspect that it is highlighted very well; this edition, the 43rd, being dedicated to this music. We also have or usual aestival season and, of course the surprise from the Polyvalent Hall that will take place at the end of September.
Lucian Haralambie
Translated by Oana Diaconu
MTTLC, the University of Bucharest, 2nd Year