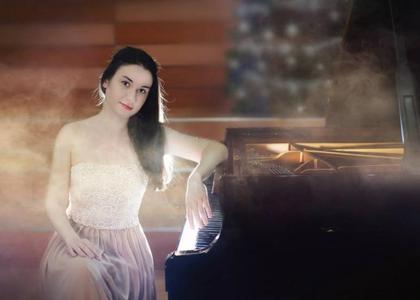 Interview with the pianist Adela Liculescu
Wednesday, 13 January 2016 , ora 10.15

A student of the University of Music and Performing Arts in Vienna, Adela Liculescu has already achieved recognition in the musical world, as a young musician who demonstrates her talent at the piano with every performance on the concert stage. With a remarkable honors list, Adela Liculescu, was awarded 1
st
place at the "Elena Rombro Stepanov" Piano Competition in Vienna in 2012, the 5th place and the special "Molly Joó-Máthé" Award at the 14th edition of the International Beethoven Piano Competition in 2013, also held at Vienna. In 2014, out of the Romanian pianists, Adela Liculescu won the highest place at the "George Enescu" International Competition, and a year later won the Bosendorfer Competition at Vienna. About her projects and the latest distinction awarded to her - the Grigore Vieru Special Prize in the Arts at The Gala of the League of Romanian Students Abroad - Adela Liculescu had to say the following:

First of all I am honored and glad to receive this award and such recognition in Romania as the student of the year in the arts domain. It is a tremendous honor for me.

How are the winners selected?
There is a special committee comprised of members of the Romanian Academy, famous names, to give an example, for the art category the actor Horațiu Mălăele was in the jury. They analyze the entire activity of the students, in my case the activity in the domain of the arts, and they select a winner for each of the categories.

What comes next for you in the following period? We will also be seeing you on March 22nd, 2016 for the Tuesday Evening Season.
Yes. Precisely. I gives me great pleasure to invite you to the concert which will be held at the Athenaeum, I am always glad to come home and perform and I know that at Bucharest I will find a wonderful audience. Every time I played there, I performed five times in the season, the hall was filled to capacity. I very much enjoy performing and I look forward to it. In a week I will leave for Germany, to participate in a piano competition near Hanover, after which I will return to Romania, to perform Concerto no 2 by Chopin together with the Râmnicu Vâlcea Philharmonic Orchestra on February 8th, and with the Pitești Orchestra on February 11th. Next I will be in Sweden, near Gothenburg, for a chamber music festival, and then I will come to Vienna. I will perform in concerts organized by the Faculty. I will come to Bucharest on March 22nd, for a recital at the Small Hall of the Romanian Athenaeum, and in April I have a recital in the Vienna Imperial Hall at the Beethoven Platz, in the Bösendorfer series, as a result of winning first place at the Bösendorfer Competition at Vienna, in November.
Jeanine Costache
Translated by Elena Gherca
MTTLC, The University of Bucharest