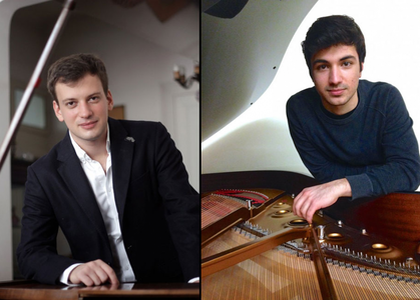 The 'Enescu Concerts' series continues
Tuesday, 2 February 2016 , ora 9.49

This year's season of the "Enescu Concerts" series, organized annually since 2007 by the Romanian Cultural Institute in London and the Enescu Society in Great Britain, opens on Thursday the 4
th
of February with a recital by pianists Mihai Ritivoiu and Evgheni Ghenciev. The programme shall include pieces composed by Bach, Chopin and Liszt, as well as the composer after which the series is named, George Enescu. Pianist Mihai Ritivoiu talks about his experiences with the audience in London.

You will be performing in the first 2016 performance of the "Enescu Concerts" series, organized by the Romanian Cultural Institute in London and the Enescu Society in Great Britain. What will be the programme for the recital you will be part of on Thursday?
The programme, which I have decided upon with the aid of the other protagonist of the recital, Evgheni Ghenciev, will open with the work of Bach - Overture in the French Style, performed by Evgheni. We shall move on from Bach to the 21st Century with a work of Australian composer Carl Vine - Toccatissimo, performed by myself. Afterwards, we shall interpret two works composed by George Enescu - Pavana, which shall be performed by myself and Regrets, performed by Evgheni, followed by two romantic works - Chopin's Polonaise-Fantaisie performed by myself and Liszt's Dante Sonata performed by Evgheni. The recital shall end with our joined performance of Romanian Dances composed by Constantin Silvestri.

How did your collaboration with Evgheni Ghenciev start?
We are both studying in the same program - Artist Diploma - at Guildhall School. In addition, we are both members of The Keyboard Charitable Trust, and this concert is a collaboration between the Romanian Cultural Institute and the Keyboard Trust - an organization that promotes selected young pianists. It was the Keyboard Trust who selected us when the Institute asked them for two pianists, which was a wonderful occasion for us to work together. I am of course very glad for this collaboration with Evgheni.

What are your plans for the near future and when will we be able to see you on a Romanian stage?
In March I will be performing Schumann's Concerto with the Harlow Symphony Orchestra in England. I will be in Romania on the 12th and 13th of May, performing Prokofiev's Concerto no. 3 with the Bucharest Philharmonic Orchestra. Of course, I will be in Romania later this year as well, in September, during the opening of the Enescu Contest, performing Beethoven's Triple Concerto for piano, violin, cello and orchestra. I will be joined by Ana Țifu and Valentin Răduțiu.
Lucian Haralambie