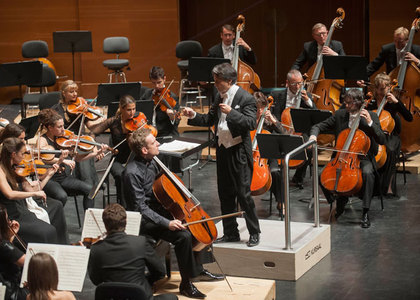 Dialogue with the contrabassist Vasile Preotu Petrărașu
Thursday, 11 February 2016 , ora 10.53

This year, the city San Sebastian of Spain was designated as the European Capital of Culture. With this opportunity, Radio Romanian Music talked to many artists of Romanian origin who had deployed part of their activity here. The contrabassist, Vasile Preotu Petrărașu has been a member of the Basque National Orchestra for 23 years.
Sir Vasile Preotu Petrărașu, you are one of the Romanian musicians working in the Basque National Orchestra. How did you come to work with this ensemble?
It was also a matter of luck. It was just after the revolution that I was able to make contact with colleagues who were already there and helped me. I practically went at 41 years, when it is already late; in art is very late to leave the country to join another orchestra. But, it was a convenience.
How were you received there?
Pretty good, but I started to speak Spanish barely after six months, a bad Spanish, and with time I was able to communicate easier; an Romanian ex-colleague was whispering what I have to do, because at first I understood the conductors' directions. Spanish, is a language that is learned fairly easily. However, I was very well received.
The Basque National Orchestra experienced a very nice rise in these recent years. How have you felt during this period?
The Basque National Orchestra has also an image role, meaning that this part of Spain has issues, as in Catalonia, and it serves as a mirror for those who are here. In reality, there were at least two arguments, why there has to be an orchestra in Bilbao and another one in San Sebastian, each approximately 90km from each other… eventually, it was opted to keep this orchestra because it serves the policy to provide a cultural image of the Basque Country… not as it was in the past, terrorist attacks and issues of this kind. Because of this, we spend a lot of time on the roads. Here we have a quite different program than the one in Romania. Here, we repeat for a week and then we perform the same concerto five times; one in Bilbao, where it already is the orchestra, another one in Bilbao, where there is another orchestra, in Vittoria, the capital of the Basque Country, and two in San Sebastian. What impressed me from the very beginning here? We have an audience that fills a hall of 1800 seats, one concerto after the other. It is impressive to see the hall almost full every time - there remain a few seats here and there, but it's a large auditorium, the subscribers who come to every performance and that are there with us.
Our activity was established a year ago, actually. There were … as images… were fireworks, San Sebastian was initiated as the Cultural Capital, but we have followed the program that we established one year ago.
So, even if it is a special year, the orchestra's work was intense, so you don't have anything to add. There, you collaborated with other Romanian musicians. I know that at some point, the conductor Cristian Mandeal was the artistic conductor of the orchestra, right?
Yes, but it was a directorship shared with another conductor, but lasted for ten years.
The maestro Mandela was my boss for ten years here. I never played in Romania with him as much as I played here. He came in Iași, but fairly rare, because it was rarely requested there. It was a long collaboration, there were performed various programs, it might have been once in a lifetime opportunity that I performed George Enescu's First Symphony... because of the maestro Mandeal.Unfortunately, George Enescu is absent from programs here. Here they perform very much Shostakovich, Russian composers ...
Do you also work on other projects?
Years ago I had collaborated and worked with chamber music groups of 5-6-7 people and even more, but it only happened occasionally, because there is no group of chamber music as the Voces Quartet in Iași or any other permanent quartets. There are brief rehearsals , and there are singings going on. At the headquarters of the orchestra, we have a smaller room, where every Saturday morning there are concerts, recitals that we perform with members of the orchestra, there is the audience for Saturday mornings, who comes at 11 AM until 1 PM, and attend to this type of concerts , chamber music or recitals.
Interview taken by Radu Mihalache
Translated by Alexandra Ștefan,
MTTLC, University of Bucharest