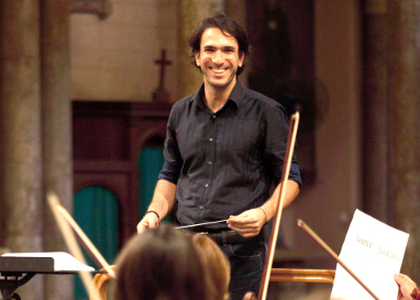 Lubnan Baalbaki - Conducting the Radio Chamber Orchestra
Wednesday, 17 February 2016 , ora 11.13

Lubnan Baalbaki, permanent conductor of the Lebanon Philharmonic Orchestra, an artist with a surprising career path, having studied music at Cluj, under maestro Petre Sbârcea, is invited to conduct the Radio Chamber Orchestra for the concert on Wednesday, February 17, 2016. Born in 1981, in Beirut, Lebanon, to a family of artists, Lubnan Baalbaki began studying the violin and the lute at the age of 14 at the Lebanese National Higher Conservatory of Music, and continued his studies at Saint-Esprit University of Kaslik. The young musician spoke to us about his time in Romania, as well as his projects in Lebanon.

Why did you choose to study in Romania?
It is quite a long story, but circumstances have led me to Romania, and I had the good fortune to collaborate with wonderful professors - at Cluj and Bucharest. I would name maestro Petre Sbârcea, who was my professor at Cluj, and maestro Horia Andreescu, maestro Dan Dediu at Bucharest. I was also lucky enough to work with these maestros after finishing my studies, I stayed in Romania and collaborated with several orchestras. The Radio Chamber Orchestra can now be added to that category, and on the 18th of March I will also be conducting the National Radio Orchestra.

What can you tell us about Petre Sbârcea? What was he like as a professor?
We realized that there was good chemistry between us ever since we first met, and one interesting story comes to mind... I would go to classes at two o'clock, for instance - usually I had classes with him on Friday - and we would start at two in the afternoon and sometimes we would talk endlessly until ten in the evening. He used to tell me about his experiences as a conductor, about Sergiu Celibidache, Antonin Ciolan, and Franco Ferrara - who were his professors and collaborators. Our time together, talking with him was an invaluable experience for me.

You spoke of your collaboration with other Romanian ensembles. What do you think are the particular traits of Romanian musicians? How would you describe them?
They are very good, very skilled musicians. When the collaboration goes well, there can be results of an outstanding level. I feel at home every time I am conducting Romanian orchestras, and my relationship with the orchestra members grows stronger still; I keep in touch with many of them. I enjoy coming here, for me it is a pleasure to conduct in Romania. I've only had pleasant experiences conducting Romanian orchestras.

One of your interests is also promoting young musicians - I speak of course of the Beirut Youth Orchestra. What motivated your involvement?
It is because I myself am young. Ever since I have started studying music and conducting, I have felt this need for support. Every musician needs guidance. When I went to Lebanon - I am the permanent conductor of the Lebanon National Philharmonic Orchestra - I realized that the country needs a youth orchestra. It is of course an orchestra comprised of students, who need time to evolve, but it is a step in the right direction. After only one year and a half, maybe two, they have clearly made great progress. We have very interesting programs in the summer. We bring professors from America, Latin America. In the future we will have several collaborations with branches of the Venezuelan music program `El Sistema`. I give my entire support for this orchestra, meaning that I would do anything to help them, and we constantly invite student conductors to work with this orchestra. So, I am not doing it for myself… It will keep on growing and after a while we will see great success for all musicians there.

In conclusion, I would ask you to address your invitation for the public, to either come to the concert tonight, or to listen to it on the radio.
We have a wonderful program tonight; it is a classical program - Mozart's Concerto no. 17, with `el grande pianista` Horia Mihail. People become very enthusiastic and come in great numbers for every Horia Mihail performance. We have also included Beethoven's Symphony no. 1, which is very well suited for tonight's program. I do it with youthful energy. I invite all young people to come and listen, and I promise that they will have an enjoyable evening.




Lucian Haralambie
Translated by Elena Gherca
MTTLC, the University of Bucharest