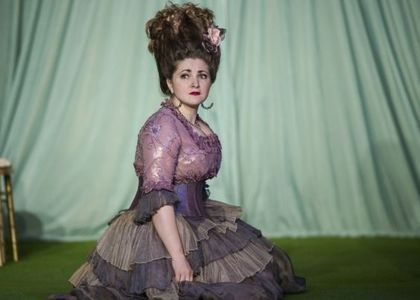 Interview with the soprano Andreea Soare
Thursday, 25 February 2016 , ora 9.11

She was graduated from the National Regional Conservatory of Strasbourg and she has a Bachelor degree in musicology at the Marc Bloch University in the same city. Andreea Soare continued her studies and in 2008 was admitted at the National Superior Conservatory of Music and Dance in Paris. Three years later, she became member of the Lyrical Academy of National Opera in Paris where she interpreted: The First Lady in
The Magic Flute
by Mozart, Maria Magdalena in
La Resurrezione
by Handel, Clarice in
Il mondo della luna
and Sylvia in
L'isola disabitata
by Haydn. The cooperation with the National Opera in Paris continues for Andreea Soare in the following period. She will be part of the distribution of the
Rigaletto
by Verdi. These days, the appreciated soprano is in Bucharest. She was invited by the National Opera to participate at the premiere of
Cosi fan tutte
by Mozart that will take place on 27
th
of February 2016. This premiere is a co-production with the Garsington Opera from Great Britain, directed by John Fulljames, in which Andreea Soare interpreted the Fiordiligi's role.

What does the invitation made by National Opera to participate at the premiere of Cosi fan tutte by Mozart means to Andreea Soare?
It means a lot to me. It is a matter of soul. The invitation from the Romanian Opera means a lot to me, especially for the Fiordiligi's role. It is my favorite role.

You are familiarized with this production.
I played this role last year, in 2015, at the Garsington Opera in London where I have twelve representations. I had a good feeling at Garsington and I was happy to know that will be the same production. Therefore, in some way, it is very easy to me because I know the scenography…

How is this framing?
It is a modern concept and only the beginning is very classical one. It is very good as it is and Fulljames has tried to combine the two styles.

How was this opera intercepted by the British audience?
The British audience wanted very much to see this opera, especially at Garsington, because the opera is an absolutely delightful naturally scenery. The first act is played under the natural light and the second one is in the limelight. The tickets had been sold with eight months before the premiere. Not only it was the Garsington Festival, but also Leslie Garrett, a diva in every sense, known in England, sang in this opera.

How do you think it will be intercepted by the audience from Bucharest?
I don't know what the preferences of the audience from Bucharest are. I hope they will like it.

Do you think it is a framing for the young audience or for a conservative one?
I think that will be for everyone. It combines very well the classic with the modern style. Therefore, everyone find something that will like. The young ones will like it because it represents a party where everyone is playing. The two sisters will play with their lovers and viceversa. In the scenography there is nothing to shock the audience. It will be on the conservative taste, too.

You have a lot of emotions when you have the first rehearsal on the stage of the Opera in Bucharest. How do you feel at home, on this stage?
I feel very good and I was well surprised by the receipt from my colleagues. They integrated me very fast and the first contact was very easy, because they have already made rehearsal with the other Fiordiligi that will be in my place when I will not be here. This was a pleasure to me because I wanted to be integrated very fast and not to damage or to disturb in any manner the work that they have already done.

But you were coming in a direction that you have already known.
Every time when a direction is a second showing in absence of the director, there are little differences. Some differences that I have not talked about yet. There are not great differences, but the partners are new and everyone is different. The interaction between us is different, especially that between the sisters. It is very important to have a relationship based on connivance. No matter how good you are as an actor, if the truth is not obvious and there are no real feelings, the work will not be the same.

What are the challenges of the Fiordiligi's role?
It is a role hard to play because of its length. The bevel is very extensive. You must have not only baritone but also high-pitched and inner voice. That means that you have to have a little from all and to do it very well. The first air it is a challenge for any soprano, it is very tough. It is very, very long and the end of the first and second parts are actually half of the play. Therefore, you have to resist. You must play and also to sing, you have to be a complete artist.

A role like Fiordiligi or others are usually easier to sing in a direction and harder in others. How it is Fiordiligi in this direction?
I can say that in the second aria, as an example, the director wanted to sing snuggled at the beginning and lying at the end. These are not confortable positions, but I found out the position that is confortable to me. There are a lot of directors with a lot of ideas. He says to you that he want this and that and you say yes for each one, but you will do as you think that is easier to you, for the good of the show, for your own good, for your vocal comfort. After all, it is a theatre where you sing and play at the same time. Both of them must be done.
Jeanine Costache
Translated by Roxana Negoiță
MTTLC, University of Bucharest