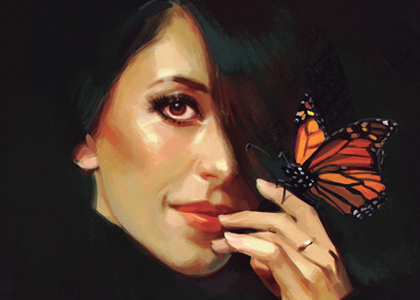 Ana Moura on Tour Promoting Her New Album - A Concert in Bucharest
Monday, 29 February 2016 , ora 9.58

Saturday, February 27th, 2016, the singer Ana Moura performed in a concert in Bucharest, at the Palace Hall. The event was part of the tour for promoting her new album 'Moura'. Before the concert we had the opportunity to find out more about the album from the artist herself, and also about other aspects of her professional life.

This is not your first concert in Romania. How do you feel, what is it like for you to meet once again with your audience at Bucharest?
The last time I was here, the public was wonderful and also the hall is very beautiful. We are very eager to present our new songs. We don't know how people will react to them, however, I can tell you that it will be a completely new show and I do hope they will enjoy it.

You have released a new album entitled 'Moura', which is already a success - a certified platinum album. What do you think makes it special?
For this album I have collaborated with the same producer with whom I have worked on 'Desfado' and I think that listeners enjoyed that album very much. This one is different because, in my opinion, 'Desfado' was a bit 'raw', with a particular aesthetic in mind. For instance, we've used drums, but we did not go for a more vintage sound. Also, on a fundamental level, we had the same sound for keyboard. In this new album we have relied heavily on the Hammond organ, which gives it a 'spiritual' vibe, as it were. There are many other particularities: for instance, the Portuguese guitar is used differently for some pieces - the sound signal passed through an electric guitar amplifier. So there are some fine resonances that give the album a different vibe.

This is your second collaboration with producer Larry Klein. How does your partnership work?
It is growing more and more… perfect. It worked very well for 'Desfado' and we already had great chemistry, so the studio work was very easy, because I instantly knew what he expected from me, what he wanted me to do and what to avoid, so it was very easy for me to work with him.

Since your album 'Desfado' there clearly was a change in sonority for your music, which is especially evident when we think of your previous albums. What is your view on this transition and also how do you think your fans feel about it?
I realize that I have lost some fans, but gained others… Some people expected me to keep the traditional style more strictly and wanted me not to stray too much from it, but to me this idea does not make sense. Traditional fado music is very beautiful and has already been very well performed and recorded, but some things are characteristic for certain generations, certain identities. Doing what others have done already does not make much sense to me. I have to find my own self. I live my life without expectations and suddenly I get the experience of working with a jazz, or rock, or pop musician. If you ask me whether I am a fado singer, I will say that I am indeed, but I don't think that this restricts me from also doing something else. I have to find my own way and lately this is what I have done because it is clear to me that these experiences have motivated me to search for new sounds. For example, I was invited to one of Prince's jam sessions - he often organizes such events and he invites many musicians - and I have found new musical horizons as a fado singer in tandem with these artists. This motivates me in the search for my identity and to strive for more when working on my albums.

Talking with various artists from genres with long traditions, such as tango or flamenco, I noticed that they find that genres are in a process of perpetual change. Some guitarists have told me that, in some ways, someone like Paco de Lucia had a greater influence on flamenco than the genre had on him. What is your view on the evolution of fado?
You know, some say that my previous album, 'Desfado', caused a change for this generation because now most fado singers so things similarly. I think that fado is evolving naturally, just like any other genre of music. For instance, Amalia Rodriguez's music was considered to be avant-garde, but this is also because she searched for poets whose works had never before been performed in the fado style.
She sang in Italian, English, and Spanish, using instruments like the saxophone for many of her songs, and she explored the many possibilities of her generation. At the time, what she was doing was not categorized as fado, but now her songs are already considered to be classics. It is possible that what I am doing now and is not considered fado by some, will come to be seen as classic. We cannot know for certain.

You mentioned Prince earlier, and you have also performed with The Rolling Stones, Herbie Hancock. What would you say was your favorite artistic experience?
Each of them was a 'Wow!' experience, but I have to confess that I have only just returned from Paisley Park, where I've stayed for two weeks. Prince is working on a new album and I went there so that we could spend some time together and sing with him. I had the opportunity to watch him produce his album with his musicians and sound engineers. It was an amazing experience, because he is a genius, he plays many instruments and knows exactly what he wants form each of the musicians. It is unbelievable how it all comes from the mind of one man. He describes in finest detail how it should sound and it makes me dream that one day I will also be able to do that!

Who would you say is your favorite artist, your idol, as it were?
It is hard to choose only one. I adore Mick Jagger on stage, I think he is amazing, I love Prince and I love David Bowie. I think David Bowie was very important for music and for opening people's minds and helping musicians to be free and not restricted to only one thing. What he did allowed musicians to be true to their own identity and that is why I believe that David Bowie was very important.
Radu Mihalache
Translated by Elena Gherca
MTTLC, the University of Bucharest