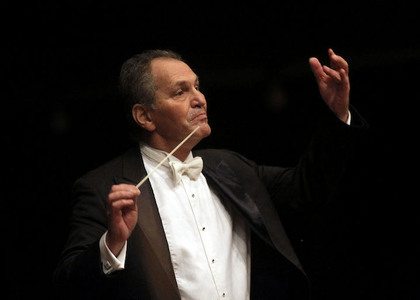 Cristian Mandeal Is the Conductor of the National Radio Orchestra
Friday, 4 March 2016 , ora 12.13

Friday, on the 5
th
March, the National Radio Orchestra will be conducted by Cristian Mandeal, a conductor who will offer a programme with encompasses:
Piano Concerto no. 2, Op. 83, in B-flat Major
by Johannes Brahms, a work in which Oxana Corjos will be the soloist and
Symphony No. 3 in E-flat Major, Eroica
by Ludwig van Beethoven. The conductor has told us about the complementarity of these two works:

The two works are tied through a very clear affiliation; Beethoven-Brahms is a normal path, so to speak, in the evolution of music history - Brahms is the renowned romantic-classic of the 19th century and in fact, he is the last greatest Beethovenian symphonist. Bruckner is already out of this context, he has a different language, and about Mahler one cannot give no information, when talking about affiliation. I find these two works to be beautifully complementary and from the point of view of the two works' tonality - B-flat major and E-flat major. Actually, I believe this is the reason why I have chosen this order for the programme and not opposite. I could have finished with the Piano Concerto, since it is a true symphony with piano - like Eroica, but I found it more interesting to connect this concept with the dominant key note, with B-flat towards E-flat Eroica, instead of doing it the other way around.

With this occasion, you are back to the National Radio Orchestra's music stand. How would you describe this ensemble now?
The generations have changed, the mindset has changed, and obviously, the knowledge and performance, in the sense that nowadays' orchestra is clearly, in the top of what is called an orchestra in Romania and it has a high ability compared to other Romanian orchestras. A reason for joy is the fact that many, many people who are part of this ensemble, go on with their passion for music and making music, not out of obligation and because it is their income source, but with the constant pleasure of combining the useful with passion.
Firstly, I would like to invite the audience to attend the concert, because what the concert gives live cannot be transmitted by a radio broadcast, regardless of how successful it might be. Piano player, Oxana Corjos is now in full process of maturity, she will offer a very mature and reference-like performance for this concert, especially in Romania, where this work is sung extremely rare by our piano players. There are very few piano players who approach this work; it is a work of maximum boldness, a work believed to be the highest peak of all piano works, more than a concert of Rachmaninoff - the third piano concert, or Bartók. Brahms' Piano Concerto No. 2 is a piece of work which few piano players in the world, generally, approach it, and when they do, they always do it with reserve. As a side note, I remember about Berezovsky, a great piano player with whom I have once conducted this concert, and he told me: "When I need to sing Piano Concerto No. 2 by Brahms, I have to study six hours a day, an occurrence which does not happen too often at any other concert."
Therefore, I invite the audience to come to this concert. It is a full, beautiful, of high cultural conduct and, of course, of a high emotional charge.
Lucian Haralambie
Translated by Irina Mihai
MTTLC, University of Bucharest