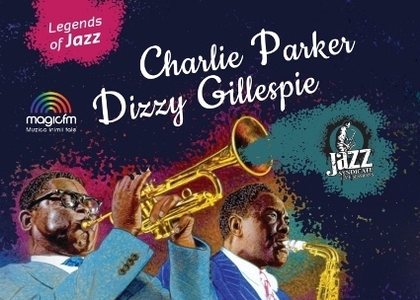 At the End of March, Jazz Legends on the Stage of the Radio Hall
Monday, 28 March 2016 , ora 15.02

Interview with Mr. Constantin Roșu, director of the Jazz Syndicate Live Sessions, organizer of the event
Mr. Constantin Roșu, you propose a series of very interesting jazz concerts at the Radio Hall, under the emblem of Jazz Syndicate Live Sessions. The first will take place on Thursday, March 31st. What can you tell us about it?
Thursday, March 31st, we propose a concert that is a tribute to the legendary Charlie Parker and Dizzy Gillespie, who were the pioneers of the bebop style and influenced many generations. We asked ourselves what would music be without their contribution, jazz in particular, and we could not even conceive it. With the concert on Thursday we are aiming to pay tribute to these titans of the music world.

Who is involved in this project?
The musicians who will perform on the stage of the Radio Hall are some of the most representative musicians of the young jazz generation. They are the saxophone player Cătălin Milea, trumpet player Sebastian Burneci, together with a remarkable rhythm section - Sorin Zlat, the only non-American winner of the Jacksonville Festival, bassist Adrian Flautistu, and last, but not least, percussionist Laurențiu Zmău.

What other projects are on your agenda this spring?
We have already scheduled and confirmed some extraordinary concerts. On April 21st Kenny Garrett and his Quintet will return to the stage of the Radio Hall, following last year's concert. Then, on May 14th we will have the wonderful trumpet player Paolo Fresu, accompanied by Ralph Towner, and in the autumn season we will have the star percussionist Jack DeJohnette, together with the saxophone player Ravi Coltrane (the son of John Coltrane), who have already confirmed. This is already their second time on the stage of the Radio Hall after last year's concert.
Therefore, on Thursday, March 31st, we will have two jazz legends - Charlie Parker and Dizzy Gillespie - who are important figures in the evolution of modern jazz, being evoked by important artists of today's jazz scene.
Marina Nedelcu
Translated by Elena Gherca
MTTLC, the University of Bucharest