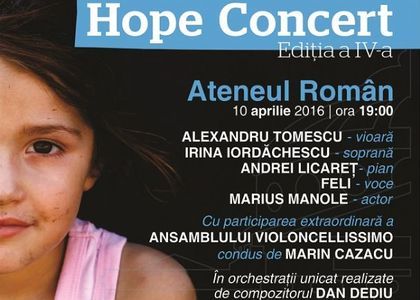 Hope Concert 2016 - An Interview with Oana Drăgulinescu
Friday, 8 April 2016 , ora 11.39

"Hope and Hopes for Children Romania" Foundation is organizing on the 10
th
April 2016 "Hope Concert", to support the disadvantaged children in our country. The details were given to us by Oana Drăgulinescu, on behalf of Quartz Media Production:

"Hope Concert" is a project which started four years ago. From the very beginning, the main idea was to enclose social responsibility with high-level art. The event belongs to the "Hope and Homes for Children Romania" Foundation, an organization which has been working for eighteen years for defenceless children. As a matter of fact, their results are beyond thought, they are impressive firstly through the numbers. The have started their activity when in Romania there were over 100.000 children housed in the so-called orphanages, as we know them. Behold, the last part of the road is short, but very important - meaning 8.000 children are still housed in orphanages.
This year, "Hope Concert" benefits again from impressive presences from an artistic point of view. I want to start with Alexandru Tomescu, who has been the ambassador of the foundation for more than four years, soprano Irina Iordăchescu, soloists from the pop music industry, such as Dan Bitman, Paula Seling or Feli, Marin Cazacu and the Viloncellissimo Ensemble and of course, coming for the second time is Andrei Licareț who becomes the ambassador of the foundation because he is part of the "Hope Concert" for the fourth time, and the list ends with actor Marius Manole.

As far as I have heard, the opuses will be orchestrated in a special way. Who created them?
Every time, "Hope Concert" has special songs. This year, Dan Dediu and Cătălin Crețu - two well-known composers - have taken the responsibility of wrapping each song with a unique and resounding variant. As a matter of fact, these songs have never before been heard this way, made for a soloist and a cello orchestra. From the songs interpreted by Alexandru Tomescu - two songs composed by Fritz Kreisler, songs which will be heard today in the Athenaeum in this formula for solo violin and a cello orchestra - to the renowned song of Dan Bitman, Beyond the Clouds, each song has received a new coating and we are very, very grateful.
Radu Mihalache
Translated by Irina Mihai
MTTLC, University of Bucharest