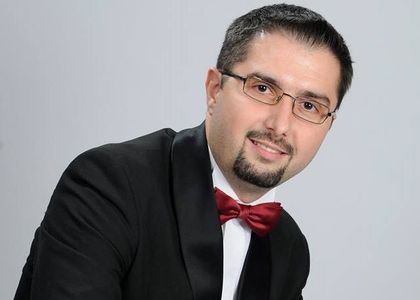 Talking with Ciprian Țuțu, the conductor of the Academic Radio Choir, about his first concert from the conductor's position - a concert which can be seen Thursday, on 14th April 2016, in the Radio Hall
Wednesday, 13 April 2016 , ora 9.59

This musician was the guest of Tuesday's edition of the show "Perpetuum mobile", on the 12
th
April.
"The Voices of Spring"- the first concert of the Academic Radio Choir, under the baton of its newest conductor, sir Ciprian Țuțu, who has taken over the leadership of the ensemble after Dan Mihai Goia's retirement. Ciprian Țuțu, welcome to our show!
It's nice meeting you! Thank you for your invitation!

"The Voices of Spring"- the title of the concert is inspired from the programme, of course, but it is also inspired by this new beginning for the Radio Choir and for you, as well. How do you feel in this new position? And how it is during this period of accommodation?
It is indeed a period of accommodation. After becoming the conductor of this elite ensemble, Romania's first class ensemble, of course the rigours are accordingly and as concerning me, they exist even for myself. I enjoy people's appreciation, but this appreciation is strictly connected, or is directly connected to the vision I try to apply it during the whole process: from working on the project to its artistic realization. Up until now, everything has been working perfectly fine, everything is innovating, people are open-minded and desire new approaches. We have succeeded in making a good impression to the audience during the other two vocal-symphonic concerts we had until now and we wish the same to happen after our debut on the land of the a cappella music.

...I would remind the date, Thursday, 14th April, 19:00. Resuming our discussion, you are a Brașov inhabitant, an Ardeal musician through education and birth. You are now working with the choir which has the greatest possible audience amongst all the Romanian choirs, because the season is broadcast through radio to all the listeners in Romania. What are your objectives, what is the choir's career path? Therefore, how would you like to imprint your ideas onto this ensemble?
Of course, before me, there were outstanding personalities of the Romanian scene during the seventy-five years of the choir's existence. I have taken over the leadership of this choir with great emotion and joyfulness from maestro Goia and I am trying to give the choir my personal touch through a certain vocal feature I am trying to form at this ensemble. Certainly, every conductor, each and every one of us has a unique personality, we are talking about unique visions and then, clearly, each of us comes with his own trademark. Therefore, I am trying to form at this choir a certain sonority or I am trying to adapt certain repertoires to a certain sonority. As well, regarding the repertoire…

How would you define this sonority?
This sonority…I am searching for a very warm sound. Let's not forget that this choir is an elite choir, because during its activity - despite it being at foundation a vocal-symphonic choir - it could tackle an extremely large palette from the chamber music area - first auditions, many more recordings… Therefore it is a choir which can tackle anything. And then, we are trying to adapt this sonority to the type of repertoire we work on at a certain moment in time. Practically, for example, even in this concert to be performed on Thursday, a concert we have named "Voices of Spring", we have an extremely rich reportorial palette, we start with music from the Renaissance period, pre-classical music and we get to the music of the 20th century after going through Romanticism, Impressionism - from the universal scene to the Romanian scene, including really valuable Romanian contemporary composers…

Even spectacular Romanian works…
That is right. It is a fairly new repertoire; around 80% of the repertoire is absolutely new, it hasn't been sung before by the Radio Choir. This is the thing I was trying to highlight, the fact that, behold, if we talk about a Renaissance work, it has a certain structure, it has certain problems, including the aspect of sonority: if we are talking about Bruckner, a certain sonority imposes itself, if we talk about Ravel, there is a different type of sonority, if we talk about classical composers…

Therefore, it is of extreme importance to highlight these artistic and sonority characteristics.
Absolutely.

What is your plan regarding the discography? What would you like to achieve?
There are so many things…

Tell us the first three plans you think about…
The first three…behold, this year is Max Reger's year. I would like us to perform not only a Max Reger concert, but also to record a Max Reger CD during the next season, for example. This is what I believe to be important. You caught me by surprise, it is still a period of accommodation and there are many ideas, but I'm trying to be reserved and let time decide.

And at the end, a personal curiosity… You have met one of the members of the famous sextet The King's Singers, Simon Carrington. How would you define that experience?
Fantastic! In summer, I participated in a conducting master class of two weeks in Italy, under the leadership of maestro Carrington. It was a unique experience. I am also a member of the vocal quintet "Anatoly", it was an approach from two perspectives - from the perspective of the vocal soloist and especially, from the conductor's perspective. An extraordinary musician!
Ștefan Costache
Translated by Irina Mihai
MTTLC, University of Bucharest