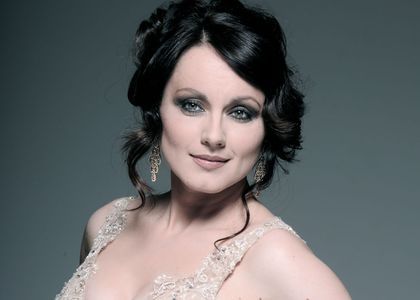 Interview - Anita Hartig, soprano
Tuesday, 27 September 2016 , ora 16.37

Anita Hartig, the 2016-2017 season has started for you with a theatrical debut, the one on the stage of the Zurich Opera on Tuesday, the 20th of September. How was this debut and how were you actually welcomed in Zurich?
First of all, let me salute you and thank you once more for thinking of me and that we can hear each other from time to time, even from a distance. It was a normal debut, meaning a very emotional one. After a well-diserved holiday, I started, of course, in Zurich. After two weeks of rehearsals here, with different coleagues and a new cast, Faust, in Zurich, which made me very happy. It was my debut here. The audience was very welcoming, so were the coleagues and everyone around us. Everyone tried their best for things to be as smooth as possible after the summer holiday.
Actually, Zurich was the place where you were supposed to make your debut since the 2014-2015 season. Back then, your debut would have been as Violetta Valery from Verdi's La Traviata. You came back now with another rich part, Faust's Marguerite.
It wasn't meant to be at that time, from several reasons which are pointless to discuss after such a long time. For me, it's a really distant past. And all for the better. In my oppinion, I've been protected by the universe from certain inflictions.
You are back in business, therefore, with your newest part, Faust's Marguerite, a part which you first approached on the stage of the Capitol Theatre in Toulouse this summer, close to the autumn days, isn't it?
Exactly, it's a new part and a part which I hope to grow, a part which challenges me and I particularly like because the character changes from one act to another and this excites me and makes me play and search different colours and different characters within the character.
It's a pretty difficult part, somehow close to Mimi, that's what you said at one point, but a part which requires in the end a great dramatic expressivity. The chronicles who wrote about you after the Toulouse show said unanimously that it was like a won bet by you there. How did you feel now, in the new Zurich production?
The Toulouse debut was very, very emotional, especially because Teodor Ilincăi was among the cast. I had a really, really good team around us...and the coach who has helped us with our French, with certain accents. The staging wasn't too complicated, meaning we hadn't run on the stage, to get tired or to do God-knows-what crazy things, so we could focus on the music, on our voices, on everything related to this.
Did the Zurich production, the one directed by the Dutch Jan Philipp Gloger, strain you even more?
It's a bit diverse. I feel that some things belong to that place, some...perhaps I need to accustom more with his vision, but these are the challenges of each staging and we must find our legato or to find our truth in one staging or another. It was, of course, a new challenge, it was also after the summer, it was something different...but I feel how the part is growing and I discover it more and more and that's what I really like.
And it is folding perfectly with you sensibility. That's very important.
I think so. It resembles with Mimi, like you said, in a lyrical way and in some bursting moments, but the character also changes in her ways. From innocence and purity, from gullibility, she ends up going mad..she loses her child or she kills him- in different stagings, the audience has to connect the dots- after that, she loses her beloved, she loses her brother...so it's a bit more diverse ending.
I've heard that it's a production which shifted a bit the action of Goethe's novel and also Gounod's work to the age of the second empire in France, meaning 1850-1860. Did you consider this enactment more interesting compared to what you had in Toulouse? Did it challenge you more?
Maybe I'm a bit old-fashioned, but I get challenged by the music and the voice and the creation of the images with exactly the libretto's words, with the words which we are using, with different heights, transmitting energy through sound. This challenges me the most. A staging must serve the singer and not the way around, because in the end, what impresses or what remains after all the analyses or the talks or the argues...or something else...is the voice and the music. Of course, a director who loves singers must also be a psycologist, to explain certain situations or certain bursts or certain changes and perhaps, to remove certain moves that aren't musical, otherwise it's not right.
Therefore, you, as an artist, count more on the sensibility and the expressivity of your voice and less on your exterior gesticulation and the situations in which you are, basically.
I think it all comes naturally. So, they shouldn't be imposed to a singer or to any man; since you must move towards someone, you do it naturally, you don't need a director to tell you "do three or four or five steps towards Faust". You do it due to the music, the script, naturally. Don't you think I neglect my acting part; I like very much to act and to scout...
You're also acting with your eyes! That's what I like about you.
Exactly! The details and the small gestures and, in the end, the madness. There I try to put myself in a situation where...after all that has happened, how would I react?
The final scene is very hard to manage both from the directing point of view and from Marguerite's interpreter's one.
Of course, of course. There, we were lucky that there was enough room left and we hadn't have to run, like I said. It's dramatically enough and difficult vocally. It's a last eliberation shout, of indulgence or forgiveness of Marguerite and they leave everything to music, to the singer and to what Gounod wrote.
You said you had a great time in Toulouse because you had Teodor Ilincăi beside you. In Zurich you have a different partner who plays Faust. It's about Charles Castronovo. Have you worked with him before?
No, never. Of course, we know each other in our field, but we've never sang together on a stage. In my oppinion- I say this with all sincerity and not taking sides- I consider Teodor Ilincăi to be one of the best and talented Fausts. It's not a compliment, it's a fact!
In Zurich, you only had one show until now and certainly, the show will grow from one evening to another.
Absolutely! That's what we aim for.
But what's next after Zurich is a moment which means a lot for us, those back home. It means you coming back on the stage of the National Opera in Bucharest, at the gala with which this institution opens its new season. It's about the Opera Gala on the 14th of October. You are coming back in Bucharest. How long it's been?
I can't even remember!
A very long time.
I think so. Of course, I very glad that the dates matched and, not being for a long time, the better it suited and I'm really happy to sing in Bucharest again. I will be extremely emotional...I will be home again where I sang so little, but I hope in the future I'll get to sing more often with my coleagues from back home.
Is it important for you that, from time to time, to also sing for the Romanian audience? Does it matter that much when you have your Metropolitan shows, Vienna awaits you with Mimi again...Is that much of a value?
Of course it matters! I have a calling. Since you're given a talent, you want to share it with your family, doesn't it? With your home, people, friends, family, those who saw you grow up...Maybe some of them hoped you'd get far, maybe some didn't believe in you...Of course that I get very humble and proud to show them- "Look, this is what I managed to do so far!" If beyond that I could impress them, I hope that at home, for you, is the same. Meaning, to make someone happy back home, too.
That's the answer we wished for from you, Anita Hartig, right now and the answer which ensures me that probably, quite soon, we will be able to have you with us longer that a gala-with an entire part... who knows, perhaps with Faust's Marguerite on the stage of the Bucharest Opera. You know we welcome you any time!
Gladly, if the dates match, of course.
We would be waiting and, until the 14th of October, we cross our fingers for the next Faust shows at the Zurich Opera. How many do you still have, actually?
There are four more.
Good luck!
Thank you!
Thank you!
Luminița Arvunescu
Translated by Matei Denisa
(MTTLC, University of Bucharest, 2nd year)