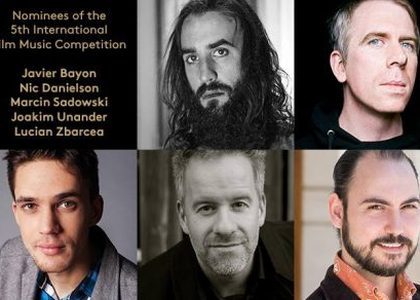 Interview - Lucian Zbarcea, composer
Tuesday, 27 September 2016 , ora 16.43

Lucian Zbarcea, you are in Zurich these days where you are a finalist of the Soundtrack Contest. You're one of the five finalists selected from hundreds of candidates. How is it like for you to be there?
It's a great joy and honor for me. It's been a big surprise when they told me because we, composers, when we participate at a contest, hope that we will be among the winners, but we also know that it's hard. It's hard especially because there are so many songs to choose from. There were over 200 songs sent to this contest. So it's a great honor for me, all the more so the Tonhalle Orchestra is the one which is playing my compositions. Incredible! I feel so honored and overwhelmed by the fact that these extraordinary musicians are playing my song, that I'm speechless, I don't know what to say, but that I'm happy.
How did you approch the short-film "An object at Rest"? How is the musical vision? How does this movie sounds like?
This movie was, in my oppinion, very hard to make arrangements for, to compose its music, because it's an animation movie. It's the idea of a travelling stone and how this stone evolves during hundreds or thousands of years. It starts in prehistory when dinosaurs lived, then time passes through the American wars, the civil wars...it evolves until somewhere, in the future, it is sent into space and lands on another planet. Therefore, it is about the passing of time and how it affects the situation of this rock, its destiny. It's, from the point of view of the movie's creator, what the stone feels or what it wants to do, that object. In fact, the object only wants to rest, to sleep, but it is interrupted continuously by someone. Basically, the scenes are many and very brief which, for me, it meant that the music has to be brief, too. At each scene, from my point of view, because of course, the other composers thought something else- each scene must have its music to define it. Therefore, there are many brief scenes with many brief musical fragments. That's why it's been hard because you must bind them in the end in order to be a whole. It was, in my oppinion, very difficult, but I'm glad, of course, that they enjoyed it. It means that I accomplished something valuable and I hope it will continue to be good. Of course, everyone wants to win. I want to win, too. Now let's see what the jury wants! It's very subjectiv, all songs are very good, each has its style...you never know what the jury wants to hear exactly.
Radu Mihalache
Translated by Matei Denisa
(MTTLC, University of Bucharest, 2nd year)