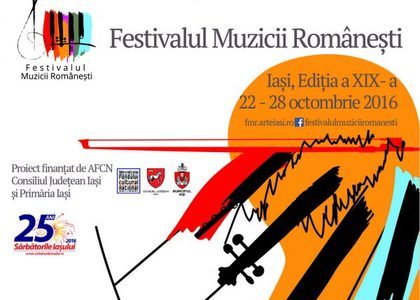 The 19th edition of the 'Romanian Music Festival' in Iași - interview with Professor Carmen Chelaru
Thursday, 20 October 2016 , ora 11.01

Mrs. Carmen Chelaru, the 19th edition of the 'Romanian Music Festival' will start on the 22nd of October in Iasi. How is the festival in Iasi different from the other festivals around the country?
It is truly the only music festival entirely with Romanian music - the first 10 editions took place before 1989 and the following editions began again after 2007, in a new series. This edition comes after the 18th one in 2014, and its main organizers are 'George Enescu' University of Arts, more precisely Professor Viorel Muteanu PhD - who actually brought this festival back to life - and the head of the Philharmonic Orchestra, professor Bujor Prepliceanu PhD.

Its beauty comes from this mix between different musical genres from Romanian traditional and contemporary repertoire. How did you organize the concerts?
From the beginning, our intention has been to cover a time period as wide as we could - from traditional music, even folkloric, but introduced in an academic manner, to the first absolute auditions. Also, we wanted to cover the Romanian territory - all parts of the country and diaspora. If possible, this year people from Iasi, Bucharest, Cluj, the Republic of Moldova will also attend.
We also celebrate personalities of Romanian music - international, national and local - Geroge Enescu and Bela Bartok. We pay tribute to two musicologists from Iasi - Professor Mihail Cozmei PhD and Professor Florin Bucescu PhD, both with great contributions to Romanian contemporary musicology.
The Philharmonic Orchestra is present through its three artistic ensembles - the Symphony Orchestra, the Academic Choir and the Quartet "Ad Libitum". The University has a representative part also, through an opera show, a symphonic concert and chamber concerts. The other cultural parts of the country are present through the 'Trei parale' Ensemble from Bucharest, composers from Cluj, musicologists and scholars from all areas of Romania and the Republic of Moldova who are also going to assist.
Laura Mânzat
Translated by Iulia - Elena Enache
MTTLC, University of Bucharest, 2nd year