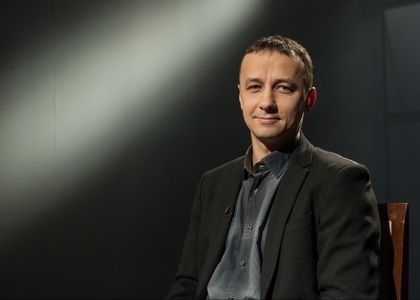 Schubert and Schumann - new itinerary for the national tour in November 2016, held by cellist Răzvan Suma and pianist Horia Mihail
Tuesday, 8 November 2016 , ora 13.40

We had a conversation with our "Guest of the week", Răzvan Suma, at "Perpetuum mobile", Monday, November 8
th
.
On the road again - Răzvan Suma and Horia Mihail, for a new tour, "Do you like" with a question mark. This time, the question mark is preceded by a word with two possible endings. "Do you like Schu…?" is the name of this edition; be it Schubert or Schumann. How did you come up with this year's program? It is slightly more traditional compared to "Do you like tango?", is it not?
Considering that I started on this beautiful journey with the idea of "Do you like", which appealed to me from the beginning, having an extremely traditional language, "Do you like Bach?", followed by "Do you like Brahms?", which was just as traditional, "Do you like tango?" had just a hint of commercial touch to it. Naturally, we've returned to the classics, because this was the main concept. We might explore some commercial areas, but I cannot predict what next year will bring.

When I said "traditional", it was more regarding the program's perspective, however, let's face it, your interpretation is rather new for us. It's not every day that you hear either Arppeggione or Robert Scumann's 5 pieces in folk style. How did you prepare the program?
While talking to my fellow cellists, they've all asked me: "Why Schubert? Why did they choose Arppeggione". Everything that's worth mentioning is that this sonnet has a high level of difficulty and, usually, cellists decide not to choose this repertoire strictly because of its difficulty. I remember a friend telling me that he would never even consider playing Arppeggione by choice, he'd approach it only if it were imposed. For example, it can be imposed in a contest. It is true that I have participated in many contests that specifically asked for this sonnet and that's one of the reasons I decided to choose this repertoire, because sometimes I feel the need to demonstrate certain things to my own self. And this sonnet, along with other works, such as Haydn's Sonata in D major, or Șostakovici's No. 1 Concerte, are at the limit of cello technique. And thus they are rarely performed; this is the reason why this repertoire is rarely heard. Apart from this, I chose Schumann's Opus from a number of reasons; first of all, Schumann's music is extraordinarily colorful, his music is also incredibly beautiful, and besides that, there is one personal reason - ten years ago I started the concept of this tour with Schumann in mind; I was celebrating him. And I thought…after ten years…I could do it again. I also chose the same pianist I played with during the Romanian Piano Trio tour, it is an anniversary edition. It's all about that. That tour started with exactly 5 Schumann songs. It's true that the other ones were not in our repertoire.

During this past decade of touring, do you feel that something has changed in the way classical music, in general, and especially chamber music, is perceived? In regards to the audience, of course.
In 2006, at Radio Hall, there were 250 people. And throughout the entire country, except for one city - Iași, there was no audience for chamber music. Iași was an exception because the audience was educated by two well-known quartets - Voces and Ad Libitum. In the meantime, I think that us, along with other similar projects, have done some considerable volunteering - we've simply educated this chamber music audience, a special audience that is not necessarily similar to the symphonic music one; and I think that we've accomplished a lot for music, especially chamber music. Along with Romanian Piano Trio, along with all these Radio România tours, having "Do you like Schu…" project as a part of it, I do believe that both sides can benefit from this. Not just the audience, but us as well. It is well known that a tour will determine you to enhance your repertoire to an even higher level, thus clearly helping us to become even better. This is basically the main purpose and the reality of such tours.

Therefore, there will be seven performances, between the 7th and the 18th of November. I will briefly mention the itinerary: Deva, Alba Iulia, Craiova, Timișoara, Iași, Bucharest, Pitești - with stopovers in all the historical places of Romania. We wish you safe journeys and large audiences!
Thank you very much!
Ștefan Costache
Translated by Ruxandra VorotneacMTTLC 1ST year University of Bucharest