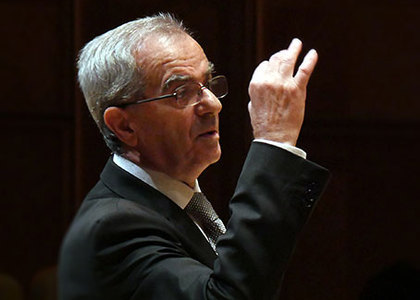 Interview with Voicu Enăchescu, the conductor of the Chamber Choir 'Prelude'
Monday, 19 December 2016 , ora 14.33

In the programme of carols on Monday, the 19th of December at the Athenaeum, you combined in very well the Romanian carols with the foreign ones, I think in even number. But I'd like you to tell us how did you artistically think the programme, it seems like a Christmas painting or scenery
.
I tried to balance the programme by including into the concert traditional Romanian works which I know are welcomed by the Romanian audience and also religious Christmas works from the International repertoire such as German, Spanish, Italian or Russian.

Are there also contemporary authors?
There are two Romanian composers, maestro Dan Buciu and Ion Popescu Runcu, a specialist of the religious music who included in a special way Santa Claus. From the Romanian golden songs we have in our programme works by Gheorghe Cucu, Anton Pann, Sabin Drăgoi, Paul Constantinescu, Alexandru Pașcanu etc.

What role do the two actors have, the ones whom you invited in this Christmas story?
Alexandra Velniciu and Adrian Păduraru also bring something to the preparations of this celebration of our Lord's birth with some lines obviously related to the event. Because we are close to Christmas, the Christians' big holiday, I wish those who listen to all well and health. And also for them, beside the concert at the Athenaeum on Monday evening, on the 21st of December, the Prelude Choie with the Romanian Youth Orchestra will also present on the Athenaeum's stage a very known work, but less sung on our stages. It's about Messiah by Handel.
Laura Ana Mânzat
Translated by Matei Denisa
MTTLC, University of Bucharest, 2nd year