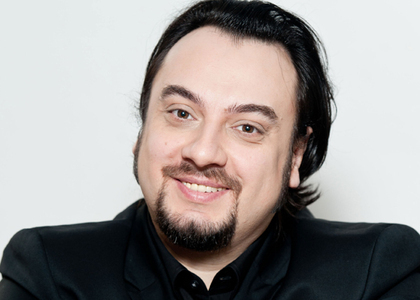 Interview with baritone George Petean
Wednesday, 8 February 2017 , ora 15.03

It's a great happiness to be back in the country, especially in Bucharest, where we played extremely rare. I am happy because it's one of my favourite roles, if not even my favourite role and are an extremely favourable conjuncture, we have the most beautiful voices, I am extremely happy to be here!

Doge Boccanegra role is one that somehow individualized you on the lyric theater scene, the international scene. I think it brought you the biggest successes and before these, offered you a special meeting.
This role means much more than that for me. It is a special role, because I have a fantastic memory tied to him, from the '90s, when I listened to the radio for the first time this opera live, and this role was played by my brother, Alexandru Agache. It was a show in London at the Royal Opera House of Covent Garden, under the direction of Georg Solti; and I heard it live with my mother. I do this because of my brother, whom I idolized as a child.
But returning to my shows with Simon Boccanegra, I did two auditions for Riccardo Muti. The first, a few years ago, an Otello in Valencia - but then I was still very young - and the performances couldn't take place . And the second is for Macbeth at Chicago. At this maestro Muti told me: "You do not have anything else?" "Yes - I told him. What would you like to hear? I can sing Masquerade." "Sing Masquerade" - I sang Masquerade, then he says:" But some of Simon Boccanegra don't you know? " I just had finished a concert" Petean and his friends "in Cluj, with Celia, the duo of Simon Boccanegra whom I sang. "Come in the room -he told me after listening Muti. I want to talk to you. "I went into the hall and he said:" Petean, do you know why I never sang Simon Boccanegra? Because I never found the voice of baritone that I like, which has the demands I ask for. "And so, he gave a compliment that will stay with me forever. For Muti the performances of Simon Boccanegra at Rome represented an extremely important thing.

And for you...?
For me, to be chosen was one of the greatest honor that I had in my life, and as I said, I think it's the most important thing I've done or that I will ever do.
Fragment of the special edition of the show Opera evening from 7th of February, directed by Luminita Arvunescu
Translated by Alexandra Stefan MTTLC 2nd year promotia 2014