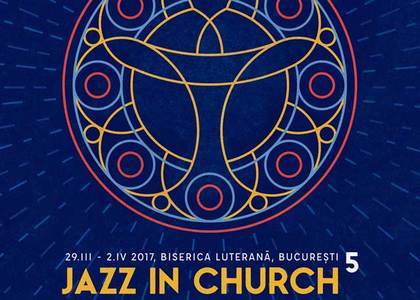 'A unique event in Romania' - states Cristi Moraru, director of 'Jazz in Church Festival'
Wednesday, 29 March 2017 , ora 11.38

Mister Cristi Moraru, you are the co-founder and director of jazz.ro, a platform that aims to promote international jazz in Romania, and also support our artists with their projects. Together with the Lutheran Church in Bucharest, you have started a successful festival. I believe it is sold out this year as well, on its fifth edition. Tell me, what makes "Jazz in Church" unique in comparison to other such festivals? And what is going to happen on this fifth edition?
"Jazz in Church Festival" is unique in Romania. As far as I know, it is also unique in Europe; I don't know if another such festival exists. There are concerts held in a church, but I know nothing of a festival dedicated to jazz music in a church. Jazz is a genre that goes perfectly with unconventional spaces. I first had the idea of organising a jazz festival inside a church in 2012, after a fruitful concert at the Anglican Church. We ended up at the Lutheran Church, where I found some extraordinary partners which have been completely supporting me for the last 5 years, and held the first ever "Jazz in Church Festival" in 2013.
As for the unique aspects - beside the world-class performers invited, obviously - the sacred location has much to offer: firstly, its excellent acoustics, and secondly, the ambiance provided by the church's architecture. Last but not least, the audience is magnificent. Each year we are congratulated by the invited musicians for the quality of the audience they find in Bucharest.

The programme is totally spectacular this year as well. Your line-up is a source of inspiration - the best that the French, Italian, Dutch, Swiss, American, German and, of course, Romanian jazz have to offer now. How did you select the invitees?
Our yearly selection depends a lot on the context of the festival. Up until last year, we were focusing solely on European musicians. Since last year's edition, we've begun inviting musicians from the United States, too. This year we have two American artists that have shaped jazz during the last decades, Chico Freeman and Ralph Towner - two immense jazz figures. Alongside them will perform top-quality European jazz artists like Bojan Z, Julien Lourau, Franco Ambrosetti, Dado Moroni, Michele Rabbia or very young but highly talented Rusconi, Presig and Guidi.
During each edition we set up a concert for young Romanian musicians, where we give them a chance to be part of a world-class line-up and sing in front of connoiseurs. There are also two special concerts. The first one...we are glad to celebrate, together with the Lutheran Church, 500 years since Luther's Reformation. On Wednesday, 29th March, the German Embassy will hold a free-entry concert with Sarah Kaiser Band. The second special concert - this is the second edition to have this type of concert - is "Jazz for Kids". When I started the Jazz.ro Association, on of the priorities was to be able to establish educational concerts in Romania, destined for children. We've done it in 2013, and we have been doing it in various festivals since. Last year we inserted it in our festival. The sheer success astounded us, because we didn't expect such a high demand and had to plan a second concert right after the first one. We've done the same thing this year. On Saturday, April 1st, there are two "Jazz for Kids" concerts - first one at 11:00, then at 12:00 - both of them having been sold out for a long time, as expected. They are interesting because they're interactive concerts (the children are part of the show), containing riddles and songs that the kids sing and the musicians improvise. At the end, the children are invited to play and get to know together, to take a closer look at the instruments used by invited artists.

What are the challenges brought by organising such a festival?
There are many. An entire year's worth of work. We are independent, work in many fields, including gathering funds, finalising the line-up and the actual organising during the last months. I am glad to work with the same team from the beginning, we are unchanged, everyone has become a good friend of mine; they are professionals, and most admirable, they are all volunteers, many of them being very young.

To conclude, tell us a few words about the atmosphere of the festival. What does meeting these impressive artists mean?
Our policy has always been to invite them a day before the concert, in order to spend as much time with them as possible, to enjoy their presence in Romania, to show them a part of Bucharest very dear to us, and establish friendships with many of them.
Marina Nedelcu
Translated by Mihai Andrei Fulgescu
MTTLC, University of Bucharest, 2nd year