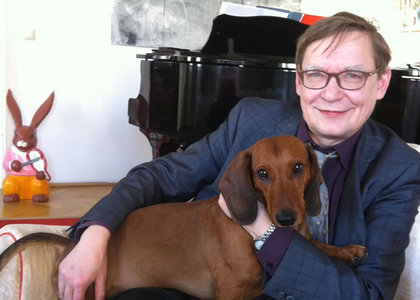 Interview with composer Kalevi Aho
Friday, 5 May 2017 , ora 10.04

This is Finnish composer Kalevi Aho's first time in Bucharest where he will attend the Romanian premiere of his Flute Concerto
, brought to life by Matei Ioachimescu and the National Radio Orchestra, under the baton of Gabriel Bebeșelea. Here is what he had to say about being here.

Welcome to Bucharest, Kalevi Aho! Is this your first time here?
Yes, it is my first time in Bucharest, but last year my tenor saxophone concerto was performed for the first time in Timișoara. It is a relatively new piece, played in Romania immediately after its premiere. For the Flute Concerto the premiere is in Bucharest, it is my debut here.

What is the story behind this piece?
It was commissioned by flutist Sharon Bezaly, to be recorded with the Swedish label Bis. I wrote it in the summer of 2002, in about two and a half months. I was at my summer home with my dog, who was sick. I thought those were the last days we would spent together in the woods… I therefore had a general state of melancholy. On the one hand, I was having a wonderful summer, very warm, but on the other hand there was sadness for my trusty companion. For that matter, he was gone by the following winter… This was my frame of my mind while composing this concerto.
I need to feel the general atmosphere of a work before actually writing it. I don't necessarily need musical material, but some ideas and feelings… When I started writing the concerto, I didn't know where it would lead, what the ending would be. I made no sketches, but proceeded to the fully orchestrated version. Once I had written two thirds of the piece, I understood its ending. It was like a story revealing its denouement to the writer.

You are known as a composer who prefers large ensembles. What are your current projects?
I am working on a new symphony, No. 17, after which I will move on to four concertos, each for a different instrument. I will also work on some chamber music, between the concertos. I have commissions for the next three years and I could have had more, but I turned them down. It's enough to have some work for these three years, and then I can think about what I want to do next.
Radu Mihalache
Translated by Anca Ștefănescu
University of Bucharest, American Studies 2nd year MA