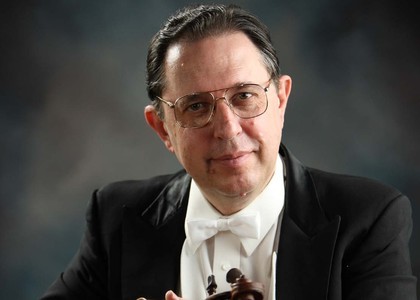 The Remember Enescu 2017 Contest - interview with violinist Sherban Lupu
Friday, 5 May 2017 , ora 10.27

Maestro Sherban Lupu, as a member of the jury I would like you to tell us your opinion regarding the general level of this year's contest and competitors.
I must admit that, this year, the level is really high, especially at the second age category, those about 14-15 years old; we were very impressed by them. It was difficult for us with this one and also with the younger categories. Unfortunately, we had to eliminate some of them. If it were for me, I would have passed them all on because they sang very well, especially the little ones who were really sweet and charming singing Enescu's play among others. We could say the atmosphere was festive. It wasn't all about the children, but also about parents and teachers; Enescu's place vibrates not only with his music but also with children and youngsters singing it. I believe this is the most beautiful thing.

And it is indeed wonderful that this happens on the 4th of May exactly at 62 years after the Maestro's death. Speaking of George Enescu, as an expert in Enescu's creation, can you tell me how do you find the level of understanding of Enescu's pieces (required in the program by the contest) by the young violinists ?
I should say that the level of understanding has raised a lot. In the past, in the 90s, coming here in Romania from America, one could find a certain distance of the young interpreters from his music. Now, we can see that they are playing his music a lot easier, delighted. I believe that here, my contribution has been a huge one because through my care and through the study I have made on his manuscripts I've discovered and gave away to the youngsters these small jewelries which made him more accessible. Now, they have embraced him and no longer feel overwhelmed with the complexity of Sonata No 3 or even Sonata No 2. It seems like Enescu is now in their hearts and they are opening them more and more for his music.
Monica Isăcescu
Translated by Tutunea Constanța Isabela
MTTLC 2 University of Bucharest, Faculty of Foreign Laguages