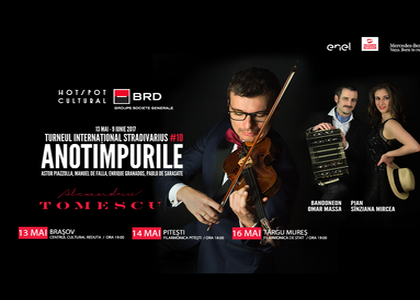 The 'Stradivarius' Tour 2017 - between the 13th of May and the 9th of June
Tuesday, 9 May 2017 , ora 9.03

The "Stradivarius" National Tour slowly reached its 10
th
edition, which will be starting on the 13
th
of May in Brașov. Thus, it is a symbolic jubilee edition. The protagonist, of course, is
Alexandru Tomescu
with his already famous violin. This time, you won't be performing this concert solo, as it was the case in the previous editions, but along with bandoneonist Omar Massa and pianist Sînziana Mircea. This tour is entitled "Seasons" and it brings together the works of Astor Piazzolla, who usually makes us envision the four seasons straight away, works of hispanic composers, in general, both from Spain and South America. Why is the 10
th
edition of the tour named "Seasons"?
I have chosen this title because one of the crucial works from our program is "Las cuatro estaciónes porteñas" by Astor Piazzolla, but also because 10 years is usually the moment you start appreciating time - the one that passes or the one that is yet to come. It is, of course, a moment when you account for the results and take a glance towards the future. We will make sure that the audience that witnesses these shows not only gets to experience the four seasons of Astor Piazzolla or the four seasons of the calendar, but also the four seasons of our sensitivity and emotions.

In a previous discussion that we've had, you were anticipating your collaboration with the young pianist Sînziana Mircea. However, you never told us what it was all about when we were trying to find out the future program for the "Stradivarius" Tour. Omar Massa has also joined you. How was this collaboration established? And I suppose that we're talking about arranging the works that you would play. How did you reach these arrangements?
In the "Stradivarius" Tours, I've always tried to present to the audience something that is rarely or not at all heard on the Romanian stages. Naturally, it is a great honour and inspiration to have an artist such as Omar Massa accompany you on stage, an extremely experienced man, one of the representative bandoneonits in Argentina, who personally knows the Piazzolla family members. I cannot express how glad I am to have him by my side. And Sînziana Mircea, I've known her for many years, evers since she was an active member of the "Remember Enescu" Cultural Foundation - where we participated to many concerts and recitals together, we even played together during those nights dedicated to students and young musicians at Art Theater, and it would seem that the time has come for the two of us to take the first step together on the "Stradivarius" Tour stage. It is a new generation that I want to promote in my endeavours and I do feel that we share a lot of things. Sînziana studied very hard abroad, has a highly important international career and yet she chose to come back to Romania. So, while she is here, why not take part in some beautiful projects together?

You have definitely made a lot of listeners curious when you've mentioned that Omar Massa personally knows the Piazzolla family. You have previously performed Seasons, by Astor Piazzolla, alternating with the more famous Four Seasons by Vivaldi. What did meeting Omar Massa bring in, from a practical point of view? How does he envision Pazzolla's music?
Yes, I have played Piazzolla's Seasons in countless manners so far. In the beginning, I have arranged it for a trio - violin, chello and piano. Then, I performed solo along with the Radio Chamber Orchestra, during the Radio event, several times, and with chamber orchestras, the arrangement was done by Desyatnikov, but every time I felt as if something was missing from Astor Piazzolla's music, and, of course, the answer was the typical sound of the bandoneon. At the time we started recording for the disc, also named Seasons, that will be launched in light of this tour, and that will comprise not only the four seasons of Piazzolla but also Antonio Vivaldi's four seasons, I realised that we need to have bandoneonist Omar Massa perform with us. The music that he plays, the sound that he brings takes you in a flash, it immediately teleports you in South America. Thus I have brought this challenge to Omar Massa to see how we could make the music of Astor Piazzolla be performed by a violin, a piano and a bandoneon. And Omar told me: "There is nothing simpler. This is, in fact, Astor Piazzolla's main structure, the three instruments that are occasionally joined by maybe a double bass or other instruments, maybe an electric guitar or something similar." But, reuniting the bandoneon with the violin and the piano in this fashion, we have recreated the main structure that Astor Piazzolla himself has played with for decades. Therefore, it is a return to the original and to the essence of what Astor Piazzolla's music is.

You haven't answered the question regarding arrangements yet. It is an interesting subjects because, usually, these works need adaptations for the different manners they approach.
Yes, of course. We're talking about an adaptation, an arrangement done by Omar Massa. He obviously has experience in this area - he has even written movie soundtracks at some point - and we've managed to find the best and the most spectacular solution for violin, piano and bandoneon.

You have probably offered us a new piece of news, that of launching the "Seasons" record. When will it be released and under what circumstances does the album appear?
We're talking about a disc recorded a few weeks ago. Everything was done in a fast pace. We've set out minds to recording just in time for the "Stradivarius" Tour. We've recorded with the Symphactory Orchestra, conducted by Tiberiu Soare, the eight seasosn, four by Antonio Vivaldi and the four estaciónes porteñas by Astor Piazzolla.

And I suppose that every concert will be an opportunity to present the album. Starting with the 13th of May, right?
Without a doubt. We're just waiting for the record to come back from the printing house and it will be hot, piping hot even.

Therefore, on the 13th of May, at 19:00, at the "Reduta" Cultural Center in Brașov, we have the grand opening of the 10th edition of the "Stradivarius" National Tour. If you could please add other destinations. I will start by adding one, that is the 30th of May, at Sala Radio in Bucharest.
Yes, indeed, on the 14th of May we will be in Pitești, at the new Philharmonic Hall. Then, on the 16th of May, in Târgu Mureș. Next up is Cluj, and countless other cities in both Romania and abroad. The "Stradivarius" Tour has become international two years ago. This year we will visit Paris in June and also Hungary, Budapest.

We kindly thank you for all the information. We wish you plenty of audience and an even greater interest towards "Seasons"! Speaking of which, in which season do you feel that you are right now?
Without a doubt, an extremely spectacular Spring! Not a calm Spring, but a Spring full of unexpected, yet highly interesting events.

Thank you. Good luck!
You are most welcome! And we're hoping to see you at our performances.
Ștefan Costache
Translated by Ruxandra Vorotneac
MTTLC 1st Year University of Bucharest