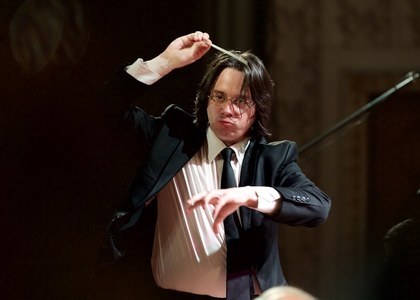 Interview with conductor Gabriel Bebeșelea
Monday, 8 May 2017 , ora 13.57

Wednesday, on the 10th of May 2017, from 7:00 PM, the Chamber Radio Orchestra is performing a concert in the
Mihail Jora Studio
of the Romanian Radio Broadcasting Company. The program will include
Fuga con Pajarillo
for string orchestra by Venezuelan composer Aldemaro Romero, Beethoven's Concerto No. 2 for piano and orchestra in B flat major, performed by Horia Maxim and finally,
Serenade for Strings,
Op.22 by Antonin Dvoűák. The concert will be performed under the baton of
Gabriel Bebeșelea
, who gave us the following interview.

On Wednesday, you will be conducting a concert performed by the Chamber Radio Orchestra. The event is putting forth a diverse program covering several periods and styles, from the Classical period to the end of the 20th century. What did you take into consideration when making this selection?
Firstly, I wanted to have a varied repertoire, but starting with Bach, a different kind of Bach. Which is to say that all of the works are, in a way, an homage to the counterpoint and to Baroque polyphony, but the program itself has absolutely no composers from this period. This was the starting point… having Bach without really having Bach.

The soloist for Wednesday's concert is Horia Maxim. How would you describe your collaboration?
We did Beethoven's Concerto No.1 together, and I remember it being very, very well put together and coherent. I am hoping for the same for Wednesday's concert. He is a pianist of great sensitivity; I am certain the audience will notice this again on the Radio Hall's stage.

In April, you had two important events: conducting the National Philharmonic of Russia and the Janáèek Philharmonic Orchestra in the Czech Republic. What were these two experiences like?
They had a very diverse repertoire. I was very glad to make music with them… two very good orchestras, especially the Russian National Philharmonic - an orchestra with a special history. And, to my pleasant surprise, they were very open to all of my suggestions, and the concert, held in the Tchaikovsky Hall was absolutely magnificent. I had been invited; maestro Vladimir Spivakov saw me at a competition in London and, as a result, invited me to conduct the orchestra, where he is the Artistic Director and Principal Conductor.

Lastly, tell us about some of your future projects.
I will have some spare time, which I need for my studies, after which I will have a concert in Cluj, with an original program - a piece by Enescu, which has not been performed since 1899, Pastorale-Fantaisie. This will be its modern premiere, to say so. Then, there will be a concert by Yehudi Wyner composed for Robert Levin, the great pianist and Mozart expert, who will be in Cluj performing this concert… and then Enescu, Symphony No. 1.
Ana Diaconu
Translated by Anca Ștefănescu
University of Bucharest, American Studies 2nd year MA