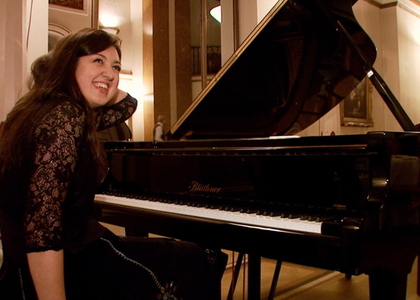 Interview with pianist Alexandra Dariescu
Tuesday, 23 May 2017 , ora 9.13

The pianist Alexandra Dariescu can be heard playing tomorrow, the 24
th
of May 2017, at the International Education Festival from Iași. The concert starts at 7:30 p.m and it will take place on the stage placed in front of the Palace of Culture. We have found out more details about the joy of singing home again and about her chosen repertoire from
Alexandra Dariescu
in the following interview.

You are returning to your native city - Iași- to perform at the 5th edition of the International Education Festival. How do you feel about singing again home?
It is the first time I sing with an orchestra in the past 15 years, so I am really glad and it is an honor for me to come back at Iași and to perform with Gabriel Bebeșelea and the Philarmonic Orchestra from Iași. When I was a little girl I used to play every year with them. I have spent all my childhood listening and admiring all the members of the orchestra. Up to now I have never worked with maestro Bebeșelea so I can't wait to sing with him. I've heard only nice things about him and I am sure this is going to be a great collaboration.

Let's talk about your repertoire. What made you choose for tomorrow's concert the Rhapsody on a Theme of Paganini by Sergei Rachmaninoff?
Because it is Rachmaninoff's Year and because of the concert from Sala Radio celebrating 20 years of Radio Romania Music where I have performed Rachmaninoff's Concerto No. 2 I have thought to myself that it would be nice to go on with the Rachmaninoff spirit and so, I chose the Rhapsody. The Rhapsody is one of the concerts I wanted with all my heart to perform when I was younger; and I remember that my father copied the score and tied it in a beautiful brown leather cover that I still have…it was my dream to perform this piece ever since I was a little girl. Of course I have played it everywhere, even in Finland two weeks ago and in The United Kingdom.

In the end, can you tell us which are the most important next projects that you are working on?
The following months are extremely busy. I will make my debut with the orchestra in America and with two orchestras in Canada; I am going to Toronto and Quebec. I will have my debut in China- at Shanghai and Beijing. And of course I have a lot of concerts in The United Kingdom, but also, all around Europe. I am an artist-in-residence at Inselhof-one week in Germany, where I will have two concerts with the orchestra (Haydn and Rachmaninoff); I will have a masterclass and also an entire recital.
Ana Diaconu
Translated by Isabela Tutunea University
of Bucharest, Faculty of Foreign Languages