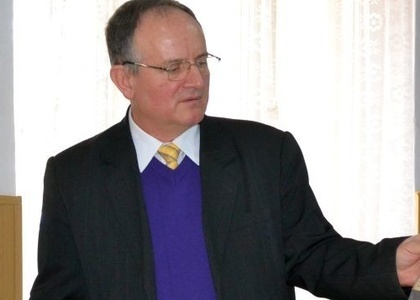 The release of the book 'Ioan Vidu - The Songsmith of the Great Union' by Constantin Tufan Stan in Lugoj
Friday, 26 May 2017 , ora 10.08

Friday, the 26th of May 2017, sees the release of a new tome by musicologist Constantin Tufan-Stan - "Ioan Vidu - The Songsmith of the Great Union". We had the chance to talk to the author of this book
about its contents, but also about what we ought to know regarding composer
Ioan Vidu.

Mr. Constantin Tufan Stan, you are releasing a book honoring Ioan Vidu, the great composer from Lugoj. Can you give us a summary of its contents?
This is an attempt to regain the character of Ioan Vidu, the person behind the sweetest Romanian songs, to use Nicolae Iorga's expression of endearment, and a true Brâncusian spirit by virtue of his genius, the grandeur of simplicity and the essence of Romanian spirituality. The book is structured in such a way as to offer the reader an image that captures in as much detail as possible the personality of the songsmith from Banat. Firstly, we have a preface written by Mrs. Elena Chircev, the Dean of the Theoretical College of the Gheorghe Dima Music Academy in Cluj-Napoca. Then, there is a study, in which I try to define for the here and now the personality of the composer, who is presently seen as a classic of Romanian choral music. This is followed by a few sketches capturing the personalities of Vidu's successors: Filaret Barbu, Dimitrie Stan and Remus Tașcău. Next, we have some material that has never before been published, from the Vidu family's archives, testimonials by his contemporaries: Ioan Ștefan Paulian, Nicolae Ursu, and others. Afterwards, a lesser known facet of Ioan Vidu's personality, or one that was perhaps recognized at some point, and then forgotten in time: that of literary artist, represented through musical reviews, memoirs, musings, pamphlets. Then, there are some articles collected from the press at the time, and last but not least, a final chapter entitled "Quo Vadis", in which I try to illustrate the evolution of the Romanian choral music from the Banat region, and the current state of affairs, analyzed from the point of view of the vocational artistic training that is part of the choral musical life. Lastly, there is an ample iconographic collection, partly unpublished before, from both public and private archives.

From your perspective, that of the researcher who has closely looked into Ioan Vidu's biography, which part of this composer's work do you consider to be insufficiently known at the present time, by the music world and by the audience at large?
Choral music, that of Ioan Vidu, Tiberiu Brediceanu, and other composers from Iacob Mureșianu's Transylvanian school, has been generally thrown in the shade. Young musicologists have at their disposal a wide field of investigation, and there are still notable figures of Romanian classical music that are awaiting researchers who can valorize them and facilitate their rediscovery. Vidu lives on; he is still relevant, as compared to other authors, whose works have perhaps turned into museum pieces. His choral compositions are still alive. They convey an abundance of feelings and ideas, are sung enthusiastically and are well-received by the music-loving public at large.
Monica Isăcescu
Translated by Anca Ștefănescu
University of Bucharest, American Studies MA, 2nd year