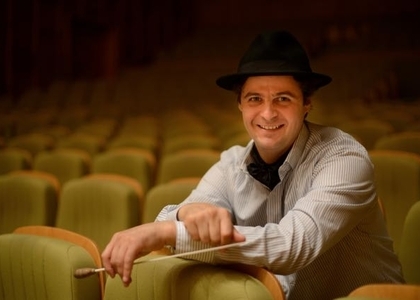 Interview with conductor Cristian Oroșanu
Monday, 29 May 2017 , ora 11.30

On June 1, at 11 am, National Radio Orchestra conductor Cristian Oroșanu awaits children, parents and grandparents to a special concert dedicated to Children's Day. Cristian Oroșanu not only that will lead the concert, but he will talk with the children - it will be an atypical concert, you can learn more about from the conductor's declaration.

To put ourselves in the shoes of a child that hears something about this concert and say 'what's there? "
I think about my children first, which I often read them a story. And I imagined this concert to attract children through the world of fairytales; stories illustrated through the world of music. A whole host of composers have used these stories for children to write very good music. For an hour - something like ... maybe more, because children don't have patience to stay at a long concert - we enter the world of fairy tales for older children or smaller. I will not unveil the repertoire we will present in front of the children, but will be in a very pleasant way for them. That will not be a boring concert that should stay just to listen all the time. I had to introduce them ... and interact a bit, we shall have a small talk ... and maybe we will be alongside children a little bit on stage. We have an idea that will make them see what happens in an orchestra, what is a violin, what and how it feels to be on stage ... I think Bucharest residents are lucky to have this event, which is shown on Children's Day with the National Radio Orchestra, one of the best Romanian and European orchestras.

Is Superman going to be there? We'll see after the poster is finished?
Superman, no… We promised you threat I won' t unveil the repertoire. It's going to be a surprise.
Cristina Comandasu
Translated by Alexandra Stefan
MTTLC 2nd year (promotia 2014)