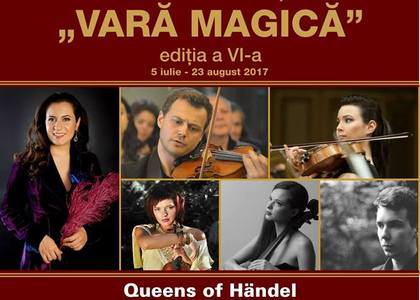 An Interview with Soprano Rodica Vică
Wednesday, 26 July 2017 , ora 11.36

International Festival "Magic Summer" takes place at the Romanian Athenaeum on the 26th July which is the fourth concert of the sixth edition. Soprano Rodica Vică and I Ludici Ensemble presents a concert with Handel`s music. We found out details from the soloist herself:

Rodica Vică, on Wednesday you will have a concert during the "Magic Summer" Festival with I Ludici Ensemble- a concert with baroque music. How did the idea of this project camed out?
The idea of this project came during a scientific research for my PhD thesis, which later developed and we hope it ends well on Wednesday, in a painting on a 300 years old canvas. The idea is based on the Handelian feminine roles that are the base of Georg Friedrich Handel`s creation and dramaturgy.

What`s different at Handel`s vocal music than any other baroque composer`s music?
I cannot tell that is different but I could say that is from my point of view a complex type of music that offers a lot of freedom and it still offers a clear guiding from the technical and approach point of view and allows you to experiment a lot of colours.

You will sing along with I Ludici Ensemble. How is the collaboration with these musicians?
We are collaborating for over an year now. All five of them- Rafael Butaru, Iulia Zmeu, Cătălina Filipescu, Iulian Ochescu and Ella Bokor- are passionate about the baroque music which made our collaboration a lot easier because I didn`t had to suggest them anything. They came with a lot of ideas and this leads to a very pleasant collaboration.
Radu Mihalache
Translated by Ilinca Dinulescu,
MTTLC Graduate, University of Bucharest