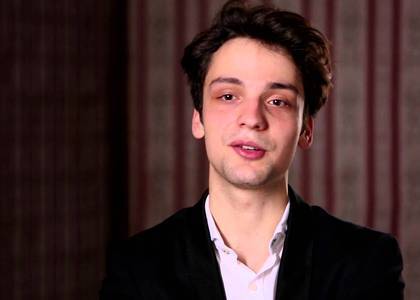 Pianist Cristian Sandrin - Recital within the 'Enescu and the World Music Festival'
Friday, 11 August 2017 , ora 13.11

Under the title "Young Romanians in the World", pianist Cristian Sandrin holds a recital today, 10th August, 2017, at 19.00, at the Sinaia Casino. The musician, currently studying at the Royal Academy of Music in London, gave us more information in the next interview.

Tonight you have a recital in Sinaia, within the Enescu and the World Music Festival. What is the programme you chose to present?
The programme will be contain pre-classical, classical, contemporary and romantic composers. I will play two sonatas by Scarlatti, a sonata bf Haydn, the last series of piano pieces by Schumann, Barcarolle by Chopin, two contemporary nocturnal pieces by Salvatore Sciarrino and Beethoven's Sonata which opens with a recitative.

Is not it difficult to pass from one style to another in such a short time?
It is difficult sometimes. I have often played this programme and I meant it as a challenge for the audience in Sinaia, which is I wanted them to listen to contemporary music, combined with pre-classical, romantic and classical music.

What other projects do you have on your agenda for the future?
Next week I go to Switzerland at the Clara Haskil International Piano Competition and then to Munich at the ARD International Music Competition organized by the Bavarian Broadcasting and at the end of September I will have my debut at Wigmore Hall in London.

What programme did you have to prepare for these competitions?
At the following competitions, I will perform some of the pieces I will play tomorrow, piano concerts by Mozart, piano quartets by Mozart, a piano concert by Chopin, as well as other romantic and contemporary pieces.
Ana Diaconu
Translated by Elena Daniela Radu
MTTLC, the University of Bucharest