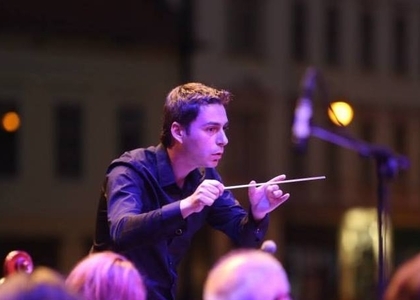 'Classics for Pleasure' Festival took place in Sibiu - Interview with conductor Constantin Grigore
Thursday, 17 August 2017 , ora 10.39

Yesterday, on the 16th of August 2017, Classics for Pleasure Festival closed in Sibiu. It was organized by ELITE ART Club UNESCO and co-financed by Local Council of Sibiu. Before the festival, conductor Constantin Grigore offered us more details.

A new edition of Classics for Pleasure takes place in Sibiu. What does this edition bring new comparing to the previous years?
We will host the 7th edition which will celebrate this year a decade since Sibiu has become a cultural capital. The novelty of this edition is a Spanish and Argentinian music concert, which we have named Mariachi Music and which is due to take place on the 14th of August, in Piața Mare, from 8:00 P.M. Under the wand of conductor Constantin Grigore, Orchestra Bucharest Symphonic Pops will represent famous classics of the Spanish repertoire, along with three soloists, such as Florin Estefan, Hector Lopez and Cristian Mogoșan. Also, guitarist Marius Bălan will play the second part of the Guitar Concerto de Aranjuez. National Chamber Choir Madrigal will join the festival this year, too, on the 15th of August, on Saint Mary's Day, at Ursinelor Church, from 4:00 P.M. It will be a very interesting and captivating programme. Tonight, in Piața Mare, Royal Camerata Orchestra will perform under the wand of Polish conductor Wojciech Rodek, having as a soloist the pianist Adela Liculescu, the young Romanian artist with a successful international career, in a concert named Classic Wonders, which comprises works of Ludwig van Beethoven, Coriolan Uvertura, piano and orchestra Concerto. No. 2 and the Seventh Symphony. The day on 16th of August begins in the morning, from 11 A.M., in Thalia Hall, with a show for children, Little House with Musical Stories, and, as it has already become a tradition, the festival closes in Piața Mare, with the State Philharmonic of Sibiu and a show, Proms of Delight, under the wand of maestro Ilarion Ionescu-Galați, who turns 80 years old this year and whom we want to celebrate properly. Soloists will be soprano Silvia Micu, tenor Alin Stoica and baritone Șerban Vasile.
Ana Diaconu
Translated by Elena-Alexandra Răduțoiu
MTTLC 1st year, University of Bucharest