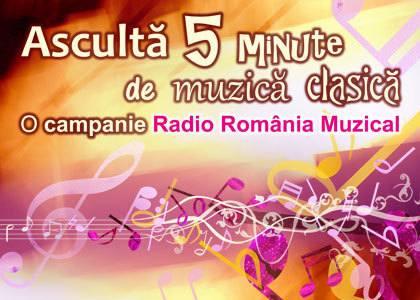 Listen to classical music for 5 minutes; interview with Adrian Brăescu
Friday, 13 October 2017 , ora 8.29

Starting with the 9th of October 2017, the project "Listen to classical music for 5 minutes" is returning in Romanian schools thanks to the partnership made between Radio România and the National Education Ministry. About this national program, from the National Education Ministry, Adrian Brăescu

"Listen to classical music for 5 minutes" it's in it's forth consecutive year in Romanian schools. Firstly, I would like to ask you which are the feedbacks? Was this a beneficial project till now?
As long as we are looking at statistics, we can consider it to be beneficial. More than the this is said by the different opinions that I saw, read, heard and discuss with others. Of course, though, this cultural region and the peace that it gives you or the state of mind that the classical music is giving you, goes in the school life, maybe not as fast, but in my opinion, it won't go out of the minds and practices of Romanian schools. So, I have the certainty that this will be some kind of a noble title for the schools that are running this program. If the school is be able to make time to captivate the children and to take them to the concert halls… This is the most worth written virtue of the project… To make time, to put yourself in the state of mind to listen to at least 5 minutes of classical music.
The idea was great… to go to young people, in schools and I think that there will be more and more. Even I have seen with great pleasure, the joy that the kids are having while painting with your musical shows in the background. It's amazing! Otherwise, we have to acknowledge that this one of the most important projects that the Education Ministry has in the artistical area.
Statement taken by Cristina Comandașu
Translated by Fotescu Andreea-Valentina
MTTLC an 1, Universitatea Bucuresti