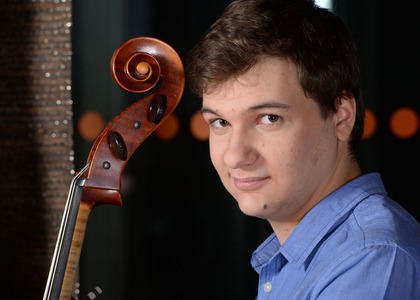 Interview with Andrei Ioniță about the recital he will perform at Wigmore Hall, in London
Monday, 4 December 2017 , ora 8.54

Violoncellist Andrei Ioniță performs a recital on the 27th of November 2017, at Wigmore Hall in London, along with pianist Itamar Golan. The event is part of the season Lunchtime Concerts 2017-2018 organized by BBC 3 and is transmitted live by Radio România Muzical.
Andrei Ioniță told us a few details about this recital:
You will debut at Wigmore Hall in London, with a recital in the company of Itamar Golan. How do you see the importance of this moment in your career and how is your collaboration with Itamar Golan?
I am very grateful to the BBC for offering me this oportunity. In 2016 I entered into their New Generation Artist programme, which supports young musicians. This meant that I had already had a few recording sessions for BBC, both in a duet and with an orchestra. Other shows at various festivals in England will follow this recital at Wigmore Hall. This is my first collaboration with Itamar Golan but I can't wait to perform with a musician of his calibre.
From what I have heard, you will have another recital with him in Essen, on the 3rd of December, is that right?
Yes. And also in Schloss Elmau, there will be a concert at the Verbier Festival.
For the recital at Wigmore Hall you chose Suite No. 1 by Bach and Sonata op. 40 by Shostakovich. What difficulties do these works entail and why have you chosen to perform them together in the programme?
Shostakovich's sonata is one of my favourite works and very close to my heart. I have been playing it for almost 10 years already, so I was very keen on presenting Shostakovich's work in London. Likewise, Suite No. 1 by Bach is probably the best known work for the cello. Somehow, I wanted to bring a very well known programme, but at the same time, to give it a personal interpretation.
After your recital at Wigmore Hall, what other projects do you have in store for the near future?
Besides the performance at the Verbier Festival in Schloss Elmau, the recital in Essen will follow, after which I will also have a recording session in Switzerland. Next year I will have numerous concert in the United States and in Japan. I will perform with the MDR orchestra in Leipzig, I will have a debut recital at Carnegie Hall in April and so on.
Interview by Laria Clempuș
Translated by Cazacu Pavel,
MTTLC 2, Universitatea din București