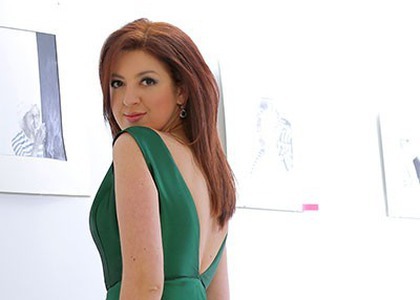 Pianist Alexandra Dariescu – special concerts in London and Vienna
Tuesday, 5 December 2017 , ora 14.09

The guest of the week at Perpetuum mobile is pianist Alexandra Dariescu, who is set to perform two extraordinary concerts with special significance, in major musical centers of Europe - London and Vienna. In the program proposed by Alexandra Dariescu are: Concertino in classical style by Dinu Lipatti and Concert Op.16 by Edvard Grieg.
Let's start in chronological order with London; a concert dedicated to the 100-year anniversary of Lipatti, organized by the Romanian Cultural Institute in the British capital.
I am delighted to have these concerts celebrating the great Dinu Lipatti - on November 28 in London, at Cadogan Hall. This concert is dedicated to Lipatti and I will perform not one, but two concerts with the orchestra - The Concert by Grieg in A minor and Concertino in classical style by Dinu Lipatti. I am very happy with this collaboration with the Romanian Cultural Institute and the Royal Philharmonic in London, with which we sang and recorded a CD, and I think it will be an extraordinary occasion to celebrate our dear and beloved musician.

You are collaborating with conductor Cristian Mandeal in this concert.
Yes. I am very glad. It will be out first collaboration and I can barely wait.

With this occasion the movie discovered by Orlando Murrin will be released; I am talking about a movie with Lipatti. What needs to be emphasized is that Murrin is the initiator of a petition that pleads for the conservation of Dinu Lipatti's house in the center of Bucharest. What can you tell us about this moment in the London concert?
It's a unique moment, and I'm glad of Orlando's success in finding this movie. I have already seen it and I sincerely say that I have watched it with tears in my eyes. It is absolutely the only moment we have - the only video recording - with Lipatti, and he is surrounded by the greatest names of that time. I think the London audience will have a few minutes of celebration. The film is very well set up by Orlando and shows a little of the whole party where Lipatti and his future wife are present. It's great, honestly!

The second event is your debut at the Musikverein in Vienna in a concert dedicated to the National Day of Romania and to the Great Union, organized by the Romanian Cultural Institute and the Embassy of Romania in Vienna, with the support of the Transylvania Leaders Foundation, on November 30th. What can you tell us about this concert?
This concert will be an extremely special one. I am delighted that I will collaborate with conductor Gabriel Bebeșelea and we will go with the Transylvania Philharmonic Orchestra of Cluj. This debut for me means very, very much. It is yet another step on this invisible ladder that we have as artists. It is a great responsibility, of course, to step into a place where all our music geniuses have stepped and concerted. Again, I will perform the Concertino of Lipatti and the Grieg Concert. I chose this combination to celebrate the great Dinu Lipatti because the Grieg Concerto was so dear to him and his interpretation is so wonderful, everyone loves it, and I felt that this is a small tribute I can bring to Dinu Lipatti.

You are following in Lipatti's footsteps, in Musikverein, because our great pianist has concerted there twice, in 1941 and you are the third Romanian soloist to sing in the famous golden hall, after Lipatti and Ion Voicu, the latter in 1961.
I cannot describe the feeling that I have and which I had when I read it for the first time. In 1941, Lipatti played the Concertino, so now after so many years, we return in the hall there. It's a unique moment in my life.

Another novelty of this concert is the fact that there is an Enescian score in the first Austrian audition. It's about the Pastorale-Fantaisie by George Enescu.
Gabriel Bebeșelea worked very hard. He found the manuscript with great difficulty. As you mentioned, it is the first time this work, which was thought to be lost, is presented; and it will be presented at Musikverein.

A question that I think you have been asked before, Alexandra Dariescu ... What are your plans in the more or less near future?
On December 19th of this year, probably one of the most important moments of my musical life will happen; my production of "Nutcracker" will premiere at Barbican Hall in London. It is a presentation of a piano recital on Tchaikovsky's music from the Nutcracker ballet, but will be in an unprecedented presentation, which has not been done anywhere in the world, for piano, ballerina and digital animations. Everything will be live, the ballerina will dance at the same time as the animations that will be coordinated on the spot. The music is wonderful. We have commissioned several arrangements and we have coupled them with those made by Mihail Pletniov and we have managed to create a piece that will be extraordinary. And in January 2018 I will go to Moscow - the Russian debut - with 19 concerts of this project, which will be in seven days; so it will be a very busy schedule. And then I have the debut in America with the Utah Symphony Orchestra and the debut in Canada, Quebec and Toronto. A very, very tight schedule. And in June I will go, for the first time, to China with the Tchaikovsky Concert. I'll be on the road, but it's great to be able to carry my music all over the world, and it gives me extraordinary energy.
Interview by Gabriel Marica
Translated by Ivan Alexandra-Maria,
MTTLC 2nd year University of Bucharest