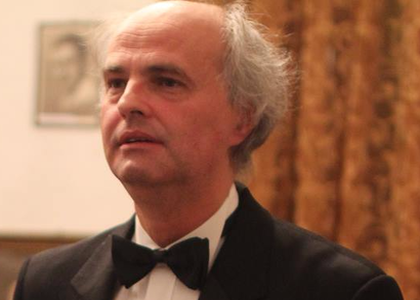 Pianist Viniciu Moroianu talks about the concert he will perform at Radio Hall on the National Day of Romania
Tuesday, 5 December 2017 , ora 14.14

The Radio National Orchestra will perform on Friday, the 1st of December 2017, on occasion of the Romanian National Day. The ensemble will be conducted by Vlad Conta and will have pianist Viniciu Moroianu as its soloist. Their program includes George Enescu's 1st Rhapsody, Robert Schumann's Concerto in A minor and Ludwig van Beethoven's 7th Symphony in A major.
Pianist Viniciu Moroianu talked about his collaboration with the Radio National Orchestra and with conductor Vlad Conta, but also about the compositions he will be interpreting at Radio Hall:
"It is a very touching reunion. I have been collaborating with the Radio Musical Orchestra for many years and we have had performances that have marked my artistic path. But now, we are talking about a reunion after many, many unwanted years of absence. I will be accompanied by the Radio National Orchestra in performing a masterpiece of romantic music, an extremely beloved concert, both here and all around the world. There are at least three wonderful versions of Schumann's concert in Romanian culture - the one interpreted by Dinu Lipatti, by Radu Lupu and by Valentin Gheorghiu, and I am thrilled to introduce the audience to this concert, that begins with Schubert's typical romance and passion, and reaches an extraordinary, moving frenzy, that resembles, if not through tone, the spirit of Beethoven's 7th Symphony, that is also part of the performance for the Romanian National Day. Still, Schumann's concert has a rather lapidary music, when it comes to the unfolding of the piece, but it is extremely dense, with a piano part that is uncovered, bright and virtuous. It all starts off with the fervent romanticism of the first part, that is monothematic, it has a lively and busy dialogue between partners. Then, it crosses into an intermezzo with a cello solo, being one of the most beautiful parts in music history allotted to such a melodic instrument. An then, we have a frantic ending, bright, full of zest, a true dancing apotheosis, just as the great Richard Wagner praised Beethoven's 7th Symphony. I believe that this inspired quote goes quite well in this case.
I will be playing alongside maestro Vlad Conta, with whom I also recorded a while ago. We have known each other for a very long time, also mentioning our collaboration in the Romanian Union of Musicians and Interpreters. I am glad to perform in front of the lovely audience of Radio Hall, celebrating together the National Day of Romania through a cultural manifestation.
Declaration collected by Larisa Clempuș
Translated by Ruxandra Vorotneac,
MTTLC 2nd Year University of Bucharest