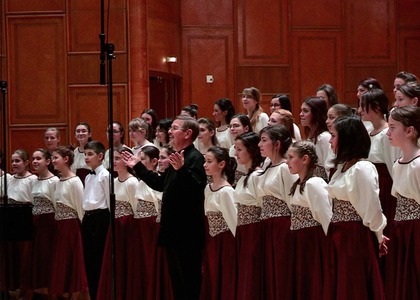 Interview with conductor Voicu Popescu
Wednesday, 13 December 2017 , ora 10.04

Today, 9th December 2017, starting at 7 PM, the "Mihail Jora" Studio from the Romanian Radio Broadcast hosts the concert entitled "Caroling from door to door", held by the Radio Children's Choir, along with conductor Voicu Popescu. I have had the pleasure to interview the famous conductor.
On the 9th of December, you will conduct the carol concert performed by the Children's Choir, an already established tradition for the people in Bucharest. What kind of surprises have you prepared for these holidays?
Just like every year, we think about bringing something new to the table, but also bring back beautiful memories for out meeting with the audience, whom I have to thank for purchasing tickets even before the beginning of the concert. I have imagined this concert as a beautiful journey, both in time and in space, and, after we open the evening with a song beloved by our children, "Peisaj de iarnă", where we set the place where everything takes place, we will start off with some of the most beautiful Romanian carols. So, we start off from our homeland with Romanian carols, and then we will travel the world. First off, our neighbours in the Balkan region, Bulgaria and Greece. Afterwards, we will travel all the way to Germany, France, Poland, and even Ukraine. And then, we will sail across the ocean to Latin America, only to return to our beautiful homeland to sing our traditional carols. Throughout this lovely story, we will have our host, Delia Nartea, as the perfect guide, who has also prepared some beautiful poetic moments.We will try to fill the audience with warm feelings to help them greet these holidays with a proper welcome.
And lastly, what other projects will you be preparing along with the Radio Children's Choir for the beginning of 2018?
The alternative music program, that will take place in Hanul Gabroveni for the 3rd year in a row - it is a music that the children of today listen to and love. This Spring, we will perform a tonic and lively concert - we're thinking about the soundtracks of some of the most popular movies. At the same time, we do not forget that next year, we mark 100 years from the Great Union and we will need to bring the "Romanian Roots" project back to life, a project that is all about Romanian traditions.
Interview by Ana Diaconu
Translated by Ruxandra Vorotneac,
MTTLC 2nd Year University of Bucharest