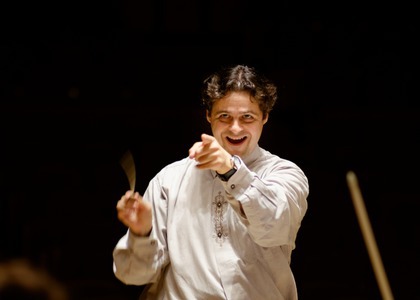 Christmas concert for children performed by The Radio Room Orchestra
Thursday, 14 December 2017 , ora 10.55

The Radio Room Orchestra will perform on 17 December 2017 a Christmas concert dedicated to the little music lovers. In the Studio "Mihail Jora", starting at 11:00 o'clock, the choir will perform together with The Children Choir Radio during a program that Cristian Oroșanu has told us about.
I had the idea to bring before children this very inspired piece of Saint-SaŽns called "The animals' carnival" which I'm going to present myself. Of course that each one of those pieces must have a short oral presentation and, after having the experience on the 1st of June with The Radio National Orchestra, it proved to be very catchy and we're going to repeat it. Besides "The animals' carnival" by Saint-SaŽns, we will have another performance consisting in carols. The Children Choir Radio will perform next to The Radio National Orchestra and I will be conducting.
I'm glad that we succeed to do this show for the children, a special Christmas show for them, because the little ones can't handle a normal hour-and-a-half or two-hour performance and thus it's good to have a special event dedicated to them.
Will there be another similar project, as from 2018, dedicated to the little ones?
I enjoy the idea because the children nowadays always represent the future audience and, besides the pure educational concerts in which we show them the instruments and explain them how to listen to a symphony, it's good to have this kind of concerts, too, which are effectively dedicated to them, without any pedagogical theories. When I said I would come and explain the Saint-SaŽns' score, I wasn't talking about a pedagogical approach, on the contrary, it's necessary, effectively, to present the animals which are musical representations in this wonderful score.
I'm pleased to invite not only the public from Bucharest, but also the people who are visiting the city, at The Radio Hall, on 17 of December, at 11:00 o'clock. All the children are welcome. The parents can come, too: it is as interesting for them as for their kids. And for those who can't get to The Radio Hall, I wish them a Merry Christmas and a very Happy New Year!
Interview realised by Lucian Haralambie
Translated by Costache Alexandra Iuliana,
MTTLC 1st year University of Bucharest