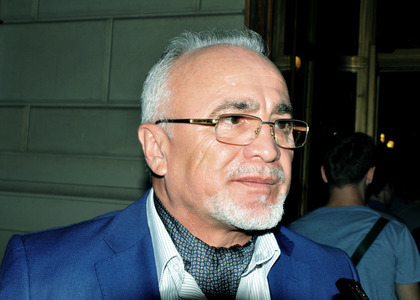 'Magical Winter' – a new concert at the Romanian Athenaeum
Friday, 15 December 2017 , ora 11.27

On the 17th of December 2017, the Romanian Youth Orchestra, conducted by Cristian Mandeal, will delight the audience with the 9th concert from the "Magical Winter" series. Supporting the event is Lanto Communication, and Dorin Ioniță, the general manager, offered us more details in the following interview.
We are getting ready for a new "Magical Winter" at the Romanian Athenaeum. If you could tell the audience a little bit about the whole idea behind it.
We are talking about the 9th edition of "Magical Winter", the Christmas concert, whose producer is Lanto Communication, and we have been collaborating from the beginning with the Romanian Youth Orchestra and conductor Cristian Mendeal, who perform, in my opinion, a holiday repertoire, with works from Rossini, Haciaturian, Dvoűák, Enescu, Brahms, Strauss, Sabin Păutza or Anderson. This year, the concert will be on the 17th of December, at 7 PM, and it will be recorded by Radio România, in order to broadcast it on Christmas day, on the 25th of December, at Radio România Muzical. I can also add that the concert hall is already full. We haven't had a seat left since the 3rd of October, but we do have the opportunity to watch it on the television. It will also by filmed by TVR.
Before we end this interview, could you tell us with what musical projects will you be delighting us in 2018?
I will only talk about the "Magical Summer" International Festival, that is dedicated to the centennial of the Great Union, and then we will start re-editing Violoncelissimo, a lovely concert with 100 cellos. It will be the second time on the 11th of July. And, since we've mentioned the 100 cellos, the orchestras that will come in Romania, the ones that I can afford to mention, will have 100 members. We will always celebrate and dedicate the "Magical Summer" International Festival to the centennial of the Great Union. We will be joined by the Romanian National Symphonic Orchestra, with Cristian Măcelaru. On the 25th of July, we have the Czech Philharmonic Orchestra, on the 26th of July we have the German National Youth Orchestra, the Spanish National Youth Orchestra, the London School Symphony Orchestra, the Romanian Youth Orchestra, along with conductor Cristian Mandeal; Romanian Simfonietta with Horia Andreescu, Wiener Jeunesse Orchester, which is the Youth Orchestra in Vienna and we will end the festival on the 29th of August with the French National Youth Orchestra.
Interview by Ana Diaconu
Translated by Ruxandra Vorotneac,
MTTLC 2nd Year University of Bucharest